Has the ease of digital photography eroded the craft?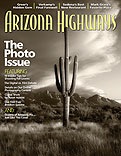 The September 2008 issue of Arizona Highways magazine proclaims that it is "The Photo Issue." If you know Arizona Highways, that might seem a weird idea. After all, Arizona Highways features truly extraordinary photos of Arizona in every issue. What makes this issue different?
The main difference is a pair of articles highlighting the work of two professional photographers, George Stocking, who works with digital equipment, and Jack Dykinga, who works with film. There's also a portfolio of black and white images, many of which appear to have been taken relatively close to where I live in Wickenburg.
My Change from Film to Digital
But it's the digital vs. film argument that intrigues me. I used film for years and continued to use it for what I considered my "serious" attempts at photography until 2003 or 2004. Back in college, I took a semester-long photography class which introduced me to photographic composition and gave me basic darkroom skills. When Mike and I moved to New Jersey and had a basement, we set up a darkroom. (We still have the enlarger and other equipment in storage.) I had (and still have) two Nikon 35mm SLRs — a matched set of N2002s that can share lenses. I'd put black and white film in one camera and color in the other.
I've had a digital camera since the mid 1990s. (Yes, I was the owner of an Apple QuickTake.) As technology improved and prices came down, I upgraded regularly — at least once every two or three years. I bought pocket-sized point-and-shoot models — mostly Canon PowerShots — that I'd carry in my purse and use when I wanted a decent-quality photo when I was out and about.
[At this point, I'd originally written a summary of our experiences with a Pentax 67 for aerial photography. In an effort to shorten up this post, I pulled it out and posted it separately: "Our Foray Into Aerial Photography."]
Years went by. I realized I was using my pocket-sized digital cameras more than my SLRs. A lot more. In fact, for a while I wasn't even sure where those SLRs were.
Then we planned a trip to Alaska in June 2007. I wanted to be "serious" about photography. So I bought a new camera, my first digital SLR: a Nikon D80.
I picked the Nikon because it would use the two lenses I already had: a 50mm and a 28-85mm. I brought it all along on the trip and took some photos. They came out okay. I realized that I was just snapping away, as if I were using one of my pocket cameras. I wasn't thinking about shooting. I was being a tourist and taking tourist photos.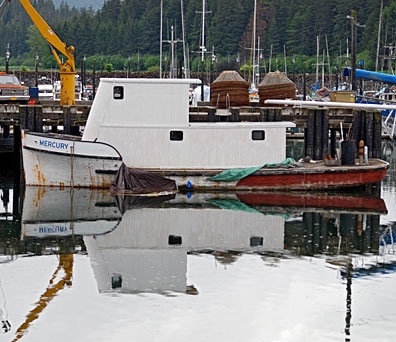 Here's an example. This photo, which I call "Mercury," is one of my favorites from the trip. The light is bad, but I really love the reflection of this boat. When you consider I snapped over 300 images in two weeks on this trip and I saw some amazing things along the way, I find it odd that this should be one of my favorites.
In my defense, we had a relatively tight schedule and limited means of transportation. We covered a huge area in about 2 weeks. It was an area we didn't know, so I had no ideas of where to go for a photo shoot. The weather was overcast with bad light for a few days. And then there was Mike, who hadn't come to take pictures. He wanted to see as much as we could. So we didn't really have the best conditions for photography. It was more like a scouting trip.
But having the camera and knowing its capabilities, prompted me to practice the art of photography. It's become a serious hobby again.
Jack Dykinga's Thoughts on Digital Photography
And that brings us back to the Arizona Highways articles.
From the article highlighting Jack Dykinga:
Dykinga thinks the ease of digital photography has contributed to an erosion of the craft. "Just because you can, you do," he says. "The images are completely disposable. You can keep shooting digital all day, even through the worst light, and although none of it might produce great pictures, it might still be marketable. You can correct it all in Photoshop. That starts compromising your values. Where, if you're really going after just one or two shots a day, you're concentrating all your efforts into one thing, like throwing a shot put."
This is an interesting twist on something I've been saying since starting to use my digital SLR. I've been arguing that the ease of using a digital camera gives you the power to experiment. Unlike Mr. Dykinga, I'm not a professional. I've never sold a photo and don't expect to. I'm still learning and I expect to continue to learn forever.
When I used film, I'd go out and shoot and come back and get the photos developed — or do it myself in a darkroom. It could be days or weeks between the photo shoot and actually seeing the images. There was a cost involved, too, and the more I shot, the more it cost. These are not good conditions for experimentation.
But when I shoot digital, I can immediately see, in the back of my camera, a tiny version of the image I just shot. I can check exposure at a glance. I can zoom in to check focus. I can turn on automatic exposure bracketing and let the camera make multiple versions of the same image so I can see which exposure works best. I can also snap various images of the same subject from different angles to experiment with framing, focus, and exposure. Because it costs the same to shoot 300 photos as it does to shoot 3, I don't have to worry about cost.
This is, of course, what Mr. Dykinga is saying. But while he's talking about professional photographer getting lazy by shooting a bunch of stuff without really thinking about it, I'm shooting a bunch of stuff to learn more about what works so I can think about it.
I do agree with what Mr. Dykinga says. But there's no way that could convince me to go back to film. I can't afford it — in time and money — if I want to be a better photographer.
Mr. Dykinga has the ability to go to a place and see the shot before he even unpacks his camera. He'll spend a lot of time with his complex and somewhat archaic equipment to make a handful of photos. They'll all be incredible masterpieces of fine art. This comes from a lifetime as a photographer, doing it every day for a living.
Me, well I'm just trying to learn how to increase the quality on a higher percentage of what I shoot. I'm at the point where I won't take a photo if I know it won't come out good without a lot of help from Photoshop.
I think what Mr. Dykinga is trying to say is that serious photographers should not get lazy about photography. We should think about every shot and try to make every single one a high quality work of art.
I'd like to do that. I just need more practice to learn how.
A Final Word about Arizona Highways
Arizona Highways is a great magazine about Arizona. It's published by the Arizona Department of Transportation, and other than ads about Arizona Highways publications, it's ad-free. It features excellent photography and articles about Arizona history and activities.
If you're interested in photography or Arizona, I highly recommend subscribing — or at least picking up an issue at the newsstand. It's only through our support that this fine magazine will continue to be published, as Arizona faces budget shortfalls that threaten its existence. Be sure to check out various books and other publications listed in the magazine and on its Web site.