Hold on. More to come.
My husband, Mike, joined me in Page for the weekend. I did some work, but we also had some fun. Yesterday, we rented a boat and went out to Rainbow Bridge, the world's largest natural stone arch. Rainbow Bridge is only accessible by boat from the lake or by a grueling hike from a trailhead near Navajo Mountain. Even by boat, there's currently a 2/3 mile hike from the dock to the Bridge. But that doesn't stop hundreds of people — mostly on the three daily tour boats — from visiting.
I have a lot more to say about this day trip, but I can't stop to write about it now. I'm terribly behind on a book project — partially because I took yesterday off — and I need to get the darn book done already.
But I leave you with this photo of Mike, apparently holding up the bridge. We took this photo in response to Mike's friend,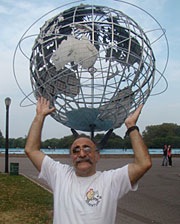 Bob, who recently sent a photo of himself holding up the Unisphere, a New York City landmark.