Scud-running, defined.
In a recent post titled "Almost Scud-Running," I recounted a flight through Snowqualmie Pass in Washington with low clouds and limited visibility. I said that was "almost" scud-running. But what we did on departure from Seattle's Boeing Field (BFI) on Saturday was definitely scud-running.
So I guess a definition is in order here. This is my definition — other pilots might define it differently.
To me, scud-running is flying in weather that is so questionable that you're required to alter your course to get around it. I'm not talking about an alteration planned before takeoff — we did that, too. I'm talking about multiple in-flight course changes to find your way around weather you can't fly through. And that's what we did on Saturday morning.
The original flight plan had us going through the pass again and, from Ellensburg on the other side, to Walla Walla and down into Oregon. But there were low clouds over Seattle that morning and a check with Duats and the Seattle FSS confirmed that Stampede Pass had just 1/4 mile visibility. Stampede Pass is one pass over from Snowqualmie and roughly the same altitude, so if it were fogged in, Snowqualmie probably was, too. (Stampede has an ASOS; Snowqualmie does not.) We could wait for the weather to lift – which might not happen that day at all — or take another route. Since I was suffering from severe back pain due to a possibly herniated disk, I wasn't interested in waiting around. I wanted the flight over with. So we planned to go due south and find a path around the west side of Mt. Rainier and Mt. St. Helens.
Louis was flying and would do 95% of the flying for the entire ferry flight from Seattle to Page, AZ (Lake Powell). He's familiar with BFI and handled the radio communications with the tower there before guiding us through the narrow corridor between Renton and Seatle airspace. Then we were heading south with the clouds just above us. We had perfect visibility ahead of us, but the mountains were obscured to the east.
How I Run the Scud
I have a technique I use for scud-running in mountainous terrain. This is a technique that's easy in a helicopter — which has the ability to slow down, stop, descend almost vertically, and make very tight turns. I do not recommend using this technique in an airplane. Actually, I don't recommend doing any kind of scud-running in an airplane.
In my technique, I fly as close to the desired course as possible as long as I can see the next upcoming ridge or mountain top. When I get near that ridge, I peek over the top of it. If I can see the top of the next ridge, I cross over and continue. If I can't see the top of the next ridge, I fly parallel to the ridge in the direction of clearer skies, which is normally opposite the direction I really want to go. As soon as I can see the next ridge, I hop over the one beside me and head to it.
Of course, if the skies aren't clearer in any direction, I just look for a landing zone, preferably an airport where there's a lounge, restrooms, and vending machines or a restaurant. I do not want to get boxed in by the clouds with no options except down in mountainous terrain. And I'm not stupid enough to fly my helicopter in clouds, even if I wanted to punch out through the top.
I've used this technique safely in an attempt to get across the pass at Tehatchapi at the southern end of California's Central Valley. That attempt was not successful — the pass was completely fogged in — but it did allow me to get close enough to make an informed decision without putting myself in any danger. I subsequently crossed out of the valley at Grapevine after landing at an airport and talking to the local FSS.
On Saturday
That Saturday, I guided Louis on a scud run using the technique discussed above. I had a sectional chart with me and always knew exactly where we were. There were lots of valleys that looked promising, but in quite a few cases, the chart clearly showed that these valleys would simply climb up toward either Mt. Rainier or Mt. St. Helens, both of which were hidden in the clouds. Sucker valleys. It was a good thing that there were two of us up front. If I'd been alone and unable to really study the charts as I flew, I would have tried more than a few of them and wasted a lot of time.
Mike took this photo from the back seat when we were nearly out of it. It was pretty bright at this point and easy to see that the cloud tops weren't far above us. It was tempting to punch out through a hole to the top. But I don't like flying when I can't see the ground. If the engine quits I want to see my spot right after entering an autorotation — not seconds before we hit the ground.
The result of all of this was that we wound up going nearly due south to avoid the weather. Here's the track from my SPOT Messenger; ignore the numbers and just follow the track from Seattle south and then east: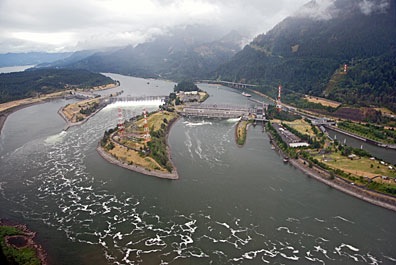 All this groping around added an hour to our flight for the day and shifted our flight path to the south. The weather was still iffy with low clouds in the Columbia River Gorge between the Cascade Locks and Hood River. You can get an idea of the situation in this photo of the Bonneville Dam that Mike took when we flew by.
But by the time we got to The Dalles, it was clear and sunny — another beautiful day on the east side of the Cascade Mountains. We left the Columbia River behind and headed toward our first fuel stop at Pendleton, OR.