Landing at San Luis Obispo.
For my first Airport Codes meme entry, I thought I'd cover one that's relatively fresh in my mind: San Luis Obispo (SBP).
SBP was a fuel and lunch stop on a flight from Wickenburg, AZ (E25) to Boeing Field (BFI) in Seattle, WA in May 2008. I was flying with Louis, a CFI who wanted to build time in an R44. Or maybe I should say Louis was flying with me, since he was acting as PIC.
Our arrangement was for Louis to fly and me to handle radio communications. We'd come in from the east, passing over Grapevine and climbing up trough the wide valley west of there. About 30 miles out, we broke away from the road and made a beeline to the airport.
I tuned in the radio, listened to the ATIS recording, and waited until we were closer to make my call. The female controller was issuing instructions to other aircraft. The airport wasn't very busy for a late Saturday morning, but the radio was full of sound. The controller was chatty, which is extremely unusual for a controller of either gender. Either she liked to give instructions or she assumed the pilots were dumb enough to need as much information as she could provide. When I made the call about seven miles out, I made myself a target for her communications.
Oddly enough, I happen to have video for this flight. I had the POV.1 camera on the nose of the helicopter and although I didn't realize it, it had been turned on since just past Grapevine. So you can see and hear the landing — including the chatty controller — for yourself.
In reviewing this video, I really think the controller had a bit too much to say. When a controller talks too much, he or she makes it difficult for pilots to make contact with the tower. Imagine, for a moment, that you were inbound to SBP and needed to establish communication with this Class Delta tower. There aren't too many opportunities to talk during the 6 or so minutes from the time I first called in to the time we landed. This makes it tough, especially for new pilots who may already struggle with communications.
Anyway, we landed in the No Parking zone as instructed, cooled down, and shut down. Then we went up to the terminal area where there was a restaurant. After being completely ignored for about 10 minutes, we finally got an apologetic waiter. Lunch was good.
While we sat there, four airliners came or went. Let's see if I can remember…American, US Air, United, and Delta? All of them were turboprops except United, which came in with a small jet.
After lunch, we went down to the ramp. Our choices for fuel were full serve, right where we were parked (A on the diagram below), or self-serve, on the other side of the airport (B on the diagram below). Self serve was 50¢/gallon cheaper. I made the wrong decision: I decided to air taxi to the other side of the airport and fill up at self serve.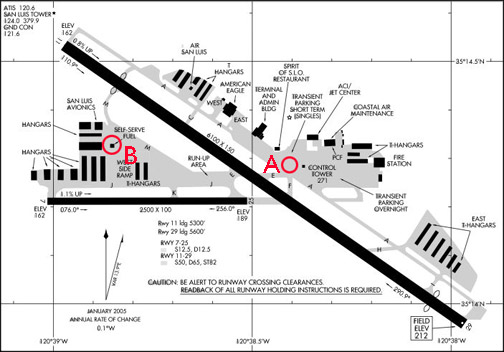 In a perfect world, this would not have been a bad decision. In a perfect world, we would have started up, got immediate clearance to cross the runway, landed in front of the pump, shut down, fueled, started back up, and got immediate clearance to depart to the northwest.
But there was no perfect world at SBP that day. As we prepared to reposition, a flight of three or four Howards called in on approach. The controller, now a man, was having trouble keeping track of them, probably because they called in individually and they were all Howards. (Eventually, he just told half of them to stay clear of Class Delta.) With the other traffic part of the equation, the controller was overwhelmed. He wouldn't clear us to cross the runway. So we sat there, spinning and sweating, waiting for the clearance. When we finally got it, I scooted us across. I was hot and cranky. I fueled up quickly and we climbed back aboard. I started up and we waited again. I called the tower three times and was ignored on the first two. On the third, the controller said, "Helicopter Zero-Mike-Lima, I hear you. Stand by." Nasty.
By the time we left, I'd burned enough fuel to eat up any savings in fuel price. Lesson learned at SBP.
Read other posts in this series: