A few photos of a few classic helicopters.
I took these photos a few weeks ago. Mike and I were taking a drive and passed by the Brewster, WA airport. I couldn't believe how many helicopters were parked on the ramp. We pulled in, parked the truck, and got out for a closer look. I had my junky little Nikon CoolPix with me, but it did a fine job, as you can see.
This is the ship I'd most like to fly. It's a Sikorsky and I think it's an S55. It has a radial engine and, a few days later, I had the pleasure of watching it start up and fly away while I was waiting on the ramp in my helicopter for my dispatcher to send me to an orchard.
This ship is in pristine condition, with seating for 7 on the lower level. What an excellent air-taxi ship this would make. Imagine flying into Scottsdale with this one? It would sure turn a few heads.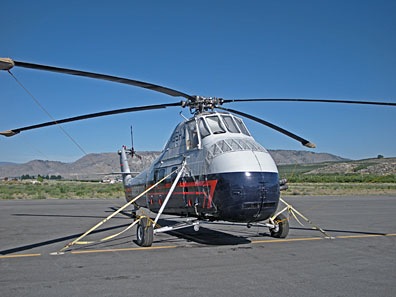 This is another Sikorsky. Not quite as pretty, but also used for agricultural work. They dry cherries with these. I saw this one in flight, hovering about 50 feet over an orchard. I think there's so much downwash that they can just hover in one place and dry the whole orchard. (Which is a good thing, because they cost a fortune to fly.)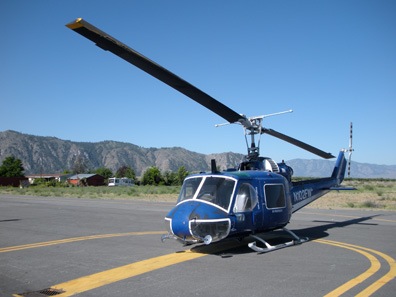 Were you looking for a Huey? How about this one?
This pretty blue Huey is also being used for agricultural work, although I didn't see it in flight.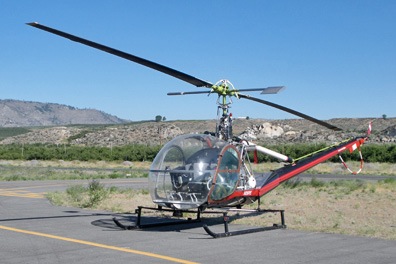 Here's another helicopter you don't see every day: a Hiller. This is one of two Hillers that supposedly came down from Canada to dry cherries.

Here's the other Hiller in an artsy head-on shot. I love the old helicopters with the big glass bubbles — but I sure wouldn't want to fly one in the Arizona sun. A buddy of mine in Arizona has one and I think he's nuts.

And here's the pair of them, parked side by side.

There was a JetRanger there, too, but I didn't take pictures of it. After all, you can see a JetRanger anywhere.
As cherry drying season is winding down to an end, most of these helicopters might be gone. I know the Sikorskys are based there. If you're in the area, why not see for yourself? You can find them at Brewster Airport in Brewster, WA.
Now Read This: If do you stop by for a visit, remember to keep your hands and other body parts off the helicopters. They're not toys and they're not for you or your kids to climb on. It's a Federal offense to mess with any aircraft — really! Remember that airport property is for authorized personnel; if you're asked to leave, please do.
And if you like looking at aviation-related photos, I hope you'll check out my Aviation photo gallery.