A few night shots.
Sorry about sharing so much photography lately, but I'm going through my photos and adding the best ones — or at least the ones I like best — to my Photo Gallery. Along the way, it seems logical to write something about them.
I made these about a month ago, during a nighttime photo shoot around the Colockum (formerly Quincy Valley) Golf Course. I thought I'd put them online already, but I can't seem to find them. So here they are: the three best from that shoot.
Quincy Valley Golf
The Quincy Valley Golf Course and RV Park was built a number of years ago by a now semi-retired man named Chuck. It started out with nine holes, built on a farm field. Chuck later added another nine holes and developed some extra land as RV lots in an "adults only" community. (The small RV park near the pro shop is where I'm parked for the season.) According to Chuck, who now handle the RV park irrigation and landscaping, the golf course was well-maintained and featured ponds and landscaping. For various reasons, he sold it to a man who was a golf-lover. Over the course of not very many years, the man drove the facility into the ground. He went bankrupt and eventually sold out to the Port of Quincy. When I arrived in June, they were busy fixing the place back up. They've done a nice job in only a few months and I think the Colockum Golf Course — it's new name — has a good future here.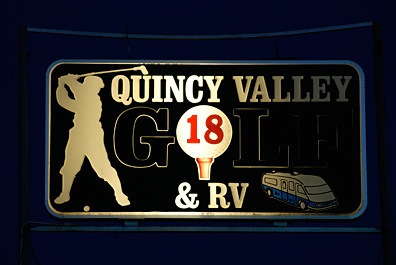 But this sign, which is lighted at night, remains to remind us of the golf course's past. It's a great old-style sign that may not be in the best condition, but still calls out to passersby on busy state route 281 as they drive between Quincy, five miles north, and George, five miles south. My favorite part? The silhouetted golfer is wearing knickers. During the day, the sign is rather nondescript and not very interesting.

Night Tractor
The golf course is in the middle of farmland. All around are fields growing wheat, feed corn, potatoes, alfalfa, and other crops. There are all kinds of farm vehicles all over the place.
This tractor is parked in front of a metal building not far from the Quincy Golf sign. It's illuminated by a single tungsten light fixture over the door to the metal building behind the camera. The camera picks up the greenish hue of the night, emphasizing the green of the tractor. The photo was taken not long after sunset, when there was still a bit of light in the sky.
I like the photo because the tractor makes me think of a sleeping monster — powerful, yet peaceful at rest.

Stop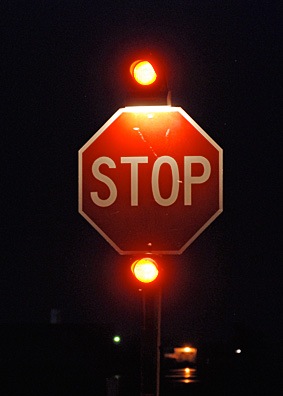 The golf course and its RV park are on the corner of a busy intersection. State route 281 runs north/south between Quincy and George. Road 5, also known as White Trail Road, is a sort of Quincy bypass, that runs east/west and then north/south, west of Quincy. Because it bypasses the traffic light (and minor traffic) in town, its popular with truckers traveling between I-90, five miles south, and Wenatchee, 35 miles northwest.
There's no traffic light on the corner. Instead, Road 5 has a stop sign. To make that sign extra visible at night, it has a pair of blinking red lights on it. This time exposure was long enough to catch both lights on, illuminating the sign. This must be enough — in the nearly two months I've been here, there hasn't been an accident at the corner yet.

If you like these photos, I hope you'll check out my After Dark photo gallery.