I really do hate my little camera.
The trouble is focus. There's no viewfinder, so I can't clearly see if the photo is properly focused before I snap it. Unless the item I'm photographing is right in front of me, at least 50% of the time, the image will be out of focus. It's extremely frustrating to have an out-of-focus 10 megapixel image taken with a Nikkor lens.
But that's just me whining. Again.
Here are a few good shots I took while watching helicopter firefighters battle a blaze in East Wenatchee, WA on Friday, July 11, 2008. I was across the river and was able to watch one to three helicopters dip and drop for over an hour. (I tweeted a play-by-play of what I saw.)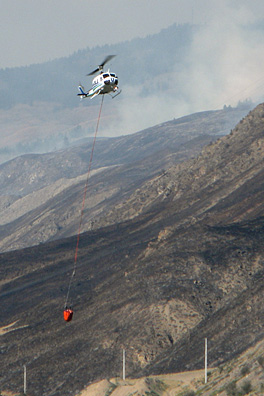 I'm not sure if this is a Bell 212 or a Huey. I never could get my helicopter models straight. In this first shot, it's coming down to the river to dip its bucket in the Columbia River. You can see the burned hills and smoke behind him.

In this shot, the same helicopter is dropping on flames. (That would have been a great shot if the damn camera would have focused properly! Ugh!) The precision of these guys was incredible. They hit the flames 9 times out of 10 and the fire would turn to a huge cloud of steam. Note the power lines. They were all over the area. Not only did the pilots have to avoid the lines with the aircraft, but also with the bucket and line beneath them.

Here's a shot of a beautiful red K-Max heavy lift helicopter dipping in the Columbia River. The pilot completely submerges the bucket, then pulls up slowly so as not to overtorque the engine as it lifts. I don't know the size of these buckets, but I know they make them 600 gallons and more. At 8 pounds per gallon, that's a heavy weight. The K-Max is an unusual helicopter with two sets of main rotor blades mounted overhead at an angle to each other. The blades spin in opposite directions, making a tail rotor unnecessary, and intermesh with each other. The aircraft sounds very cool when it flies by.

Here's a movie I recorded with the same miserable camera. It shows the K-Max helicopter dumping a load of water. Wish I'd had better equipment with me.