How many updates can a person stand?
I'm off the Internet grid these days. Indeed, every single time I post to my blog, I'm doing so by connecting my MacBook Pro to the Internet through my Treo 700p's Dial-Up Networking (DUN) feature.
This is not a fast connection. In fact, it can take over an hour to download a 30 MB file. When I need to do a real update, I have to find an Internet cafe with a fast connection. Or sit in my truck in front of a neighborhood home and use its connection.
So imagine my annoyance when Windows Vista on my Dell laptop popped up with this message today: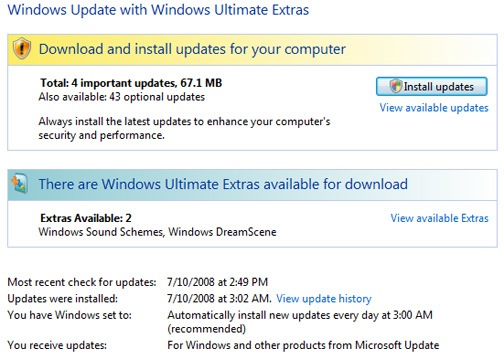 Are they kidding?
I just updated three days ago when I was fortunate enough to pick up the neighborhood connection in my trailer. Yet Microsoft has 67.1 MB more of "important" updates for me. That doesn't count the 43 "optional" updates or the 2 "extras."
No wonder the Internet connection at the local library is so slow. The five or six Windows PCs at the workstations there are probably spending all day every day downloading updates.