My way.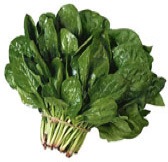 Mike and I love creamed spinach. Although we can buy it frozen in a microwaveable bag, we both prefer it fresh. Here's my microwave-friendly recipe.
Ingredients:
2 Tablespoons Butter (or margarine)
1/4 cup chopped onions or scallions
12 ounces fresh or frozen spinach (fresh is better, of course), prepared for cooking. When using fresh spinach, I usually use the bagged spinach. (I can't be bothered washing, cutting, etc.)
2 Tablespoons flour
1 cup milk (skim is okay)
salt and pepper to taste
Cooking Instructions:
In a saucepan or microwave-safe, covered bowl, melt the butter.
Add the onions or scallions and saute until done, stirring occasionally.
Meanwhile, lightly cook the spinach. I use the microwave, without added water, but you could steam it if you prefer. If you added water, drain when done. Keep warm.
Sprinkle the flour in the butter/onion mixture and stir in. Cook for about two minutes.
Add the milk slowly, stirring and cooking until thickened.
Add the cooked spinach and blend well.
Add salt and pepper to taste.
Serve hot.
If you use a microwave to prepare the sauce, cover until the flour has been added to prevent splattering. Zap the mixture for one minute at a time, stirring after each minute.
This recipe can be multiplied.