My contract ends and I get another.
My first round of cherry drying contracts went…well, I guess it went well. They were two-week contracts. It rained only two days, but not enough to launch me. So I spent 12 out of 14 days just hanging around and exploring the area. I only spent 2 days prepping the helicopter and remaining on "active" standby. Still, I collected standby pay for all 14 days.
I feel only a little bit guilty for collecting money without doing any real work. After all, because I was required to be in the area with the helicopter, I couldn't do any other paying work with it. So the compensation is partially for possible work lost. The rest is to cover my expenses, some of which are quite substantial — think insurance and travel costs and that damn fuel tank and the helmet I have yet to wear while flying.
But the first round of contracts ended at sundown on Monday. And my next round of contracts wasn't due to begin until July 8. That meant I had two full weeks with no potential income and a lot of time on my hands.
It was like being unemployed.
I made a few phone calls yesterday and today. I got a few back. And one of them was an offer for a new contract that would run from June 26 (Thursday) through July 7. A fill-in contract. I jumped on it. So I'd enjoy my unemployment for a total of two days.
The new contract is up in Brewster, WA. That's about 100 road miles from here but only 50 nautical air miles from here. I can get there in 30 minutes by helicopter, according to Duats flight planning.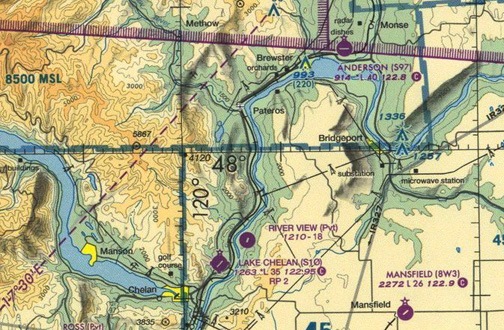 But I'm not moving my camper from Quincy. After all, I have to return for that July 8 contract. My camper is all settled in and the campsite and Internet are paid for. The campground's full hookup sites are all filled and I know that if I move my camper, someone else will steal my site, despite the fact that it's paid for. Besides, this area is due for a heat wave starting on Saturday. I'd much rather suffer through that in a motel than in the camper. The camper's air conditioning works fine, but it makes a hell of a racket.
The motel I'm going to is in Pateros. It's right on the Columbia River and all the rooms look out that way. They allow pets, so Alex the Bird won't need to be hidden — although he will cost me an extra $10/day. There's even a pool. And, if you can believe this, they'll let me park my helicopter on the grass to the east of the building.
Mike is flying up on Friday. He made his plans yesterday, when we both thought I'd be down here in Quincy, twiddling my thumbs for two weeks. His timing couldn't be better. He'll drive the truck up for me on Saturday morning, with Alex the Bird and his rather bulky cage.
Then, on July 7, when Mike is gone, I'll have to figure out how to get everything back to Quincy for the next three week gig.