My hand is not small.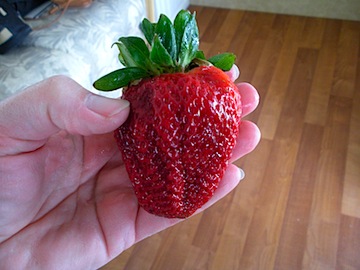 Here's a strawberry I found in the package I bought in Quincy yesterday. It was a supermarket strawberry — not a local one. But, as you can see, it's huge.
I ate it, of course. It wasn't bad. I'm accustomed to absolutely terrible strawberries sold in Wickenburg. They're usually either not fully ripened (still green or white around the leaves) or overripe and rotted. This batch was a great improvement over what I'm used to.
As the fruit in the local orchards ripen, I'm looking forward to eating some fresh, local fruit.