A report from my summer camp.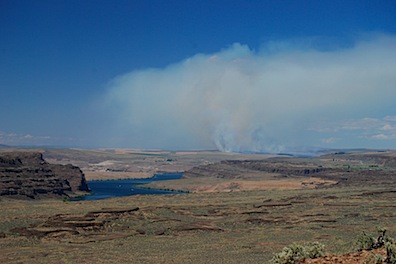 There was a big fire northwest of Quincy on Sunday. I first saw the smoke when I first drove into the Quincy Lakes area and didn't think much of it. I figured someone was burning brush or trash. But when I next saw the smoke, it looked like a big, white mushroom cloud. Later in the day, the base of the smoke had spread. It was obviously a wildfire.
I was concerned for a while that it might have been orchards burning. Maybe even one of my orchards. So after I finished my trip through Quincy Lakes and my visit to Cave B (where this photo was taken), I drove up as far as the turnoff to Crescent Bar. I could then get a better idea of where the fire was. It seemed to be in the highlands beyond the farmland.
Meanwhile, on Monday, when I drove to/from Wenatchee, I saw a helicopter with a Bambi bucket going between the fire site and the Columbia River. The smoke was greatly reduced, but it was obvious that they were still working on fire control.
Next time I'm out with my helicopter, I'll check it out.