Good weather sets me free.
If you've been following this blog, you know I'm in Quincy, WA, with my helicopter on a cherry drying contract.
The contract requires me to be on "standby" during daylight hours seven days a week. Here in Washington these days, that's basically from 5 AM to 9 PM. During that time, I can receive a call from one or more of the three growers I'm currently covering. I'm expected to respond quickly, to fly my helicopter over to the orchard(s) and begin drying. The cherries must be dried within 2-3 hours to prevent damage. I have 78 acres to cover, and if you figure 40 acres an hour, I don't have much time to waste.
Of course, I don't have to dry the cherries if they don't get wet. So if it doesn't rain, I'm not likely to be needed. That's when I can move a bit farther afield.
And that's what I did yesterday. It was a beautiful day with no chance of rain, so I took a "day off" and went to Wenatchee.
Now, Wenatchee is only 30 car miles from Quincy. And my orchards are between Wenatchee and Quincy — one of them is actually closer to Wenatchee than Quincy. So if the weather changed over my orchards while I was in Wenatchee, I'd know and be able to hightail it home. So I don't in any way feel that I was being irresponsible with a day trip to Wenatchee while I was on standby.
Besides, I had work to do in Wenatchee. I'd finally gotten the missing gaskets for my fuel tank setup and had reassembled the tank and pump. For some reason, however, I couldn't get the pump to work. I figured it might have to do with the tank not being primed. Since I had to fill the tank anyway, I figured I'd get it filled in Wenatchee and troubleshoot the problem there.
So I hit the road and drove to Wenatchee. It's a pleasant drive, much of which is along the Columbia River. There's a spot along the way where you turn a bend in the road and the Rock Island Dam is spread out before you. If I could find a place to pull over and take a photo, I would. So far, no luck.
I crossed a bridge and made my way onto Wenatchee Avenue. From there, I went to Wenatchee Petroleum near 6th Street. The folks there were very pleasant. I moved the truck over to their pump and Ken topped off my tank. We couldn't fill it to the very top because fuel kept spitting out, so I only took 12 gallons. But the price was good and I'm likely to get all my refills there.
I experimented with my pump and it still wouldn't work. It seemed to be the pump motor. I worked my phone and tracked down the local dealer for the pump, which turned out to be just a block away. After I explained that no, I didn't have separate suction pipe, the suction pipe was built into the tank itself, we got down to business. We fiddled with the switch and pump. Suddenly, it started working. The problem appeared to be in the switch. I think it had some moisture in it that was preventing it from working properly. Once it dried out, it worked.
For the first time since installing my $2,000+ fuel transfer system nearly a month ago, it worked. (It was about f*cking time.)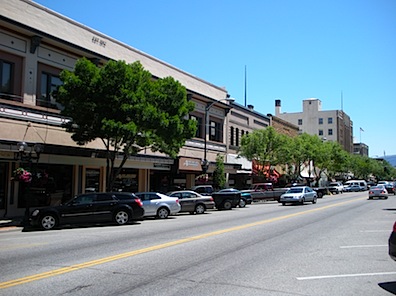 With that load off my mind, I could goof off a little. I drove into downtown Wenatchee and parked right on Wenatchee Avenue. I immediately spotted a Mongolian BBQ restaurant. I hadn't had Mongolian BBQ in 10-15 years and my stomach was grumbling for lunch — it was 12:15 PM, after all — so I went in. I had a great lunch. Then I came back out into the sunshine and walked a few blocks down and then up Wenatchee Avenue, looking into the shops. There's a great sporting goods shop on the east side of the street and I'll probably be going back next week to buy a new bicycle seat there. I treated myself to a vanilla ice cream with a shot of espresso on top before heading back to the truck.
Two more stops. First, Home Depot to buy a large plastic planter, potting soil, and some plants for a little garden at my camper. Tomatoes, basil, and some flowers. Then Safeway in East Wenatchee for a few groceries. I was very disappointed that they didn't sell 8 O'Clock Coffee, which is my favorite brand.
I took the road past Wenatchee Airport on the way back. It might be a little longer than route 28, but it's a pleasant drive through farmland with occasional views of the Columbia River Valley before joining up with Route 28 near Rock Island.
It was nice having a day off.
And I guess I have a pretty good deal: I only have to work when the weather is bad, so I always have nice weather on my day off!