I fly for the first time in almost three weeks.
On May 19, I dropped off my helicopter for its annual inspection at Seattle's Boeing Field. I would be spending the summer in Quincy, 100+ miles to the east, on a series of cherry drying contracts. I wanted the helicopter in top condition for the job and the mechanic in Seattle, Rich, was highly recommended by several Robinson helicopter owners.
From Seattle, I made my way back home on a zig-zag route via airliner: Horizon Air from Seattle to Wenatchee and back to Seattle. Alaska Air from Seattle to Oakland. U.S. Air from Oakland to Phoenix. I had all kinds of business along the way. But I was back in Wickenburg by May 22.
Without a helicopter.
It hit me hard — the sudden realization that if I felt like going flying, I couldn't. Rain came and the desert flooded and I couldn't take a quick trip in the helicopter to see it from the air. A potential customer wanted a day trip to the Grand Canyon but I couldn't provide the service. Fortunately, I kept myself busy with preparations for the long drive from Wickenburg to Quincy (learn more here, here, and here), so I really shouldn't have goofed off in the helicopter anyway.
I came to Quincy and settled in. Then I began looking for weather window — a date when the weather in both Seattle and Quincy — and all points in between — would be good enough for the hour-long cross-country flight. Complicating the matter was the bad weather in Seattle. Rich had painted my main rotor blades and needed to track and balance them. Trouble is, if he flew in the rain, some of that nice new paint would be worn off. So he hadn't finished the job.
But my contract date was fast approaching, so there wasn't any time to wait. My weather window was Sunday, June 8. Rain was a definite possibility on June 9, the day before most of my contracts started. One grower had already told me he might call on June 9. I pushed Rich and he took care of the last details on Saturday evening. Yes, it was raining. And yes, some of that nice paint was worn off. But the job was finished.
I made arrangements with one of the employees at the local golf course where I'm camped to take me from Quincy Airport, where I'd leave my truck, to Wenatchee Airport, where a Horizon flight would take me to Seattle. (He and his wife would make a day in the relatively big city of Wenatchee and I'd give him enough money to cover gas and lunch. A good deal for all.) I'd purposely skipped breakfast so I could eat at the airport cafe. When I arrived and learned that the cafe was closed on weekends, I was extremely disappointed. I had to satisfy my angry stomach with peanut butter crackers from a vending machine.
The flight was on a 37-seat turbo prop airplane. I don't remember the model number. We took off from Wenatchee and the pilots spiraled us up over the city, climbing to about 20,000 feet to cross the Cascades. Below us were scattered clouds with snow-capped mountains poking through. My seatmate flies the route regularly and seemed interested in aviation, so we chatted a bit. The man beside him, visiting from New Zealand, told us stories about how helicopters are used there. The 30-minute flight went quickly and, before long, we were landing at Sea-Tac.
Rich had kindly offered to pick me up at Sea-Tac and drive me to Boeing Field, which is only 6 miles away, so before long I was riding north on back streets in his Hummer. A while later, I was on the ramp at Boeing Field's "Pad 6," looking at a helicopter so clean and beautiful that I couldn't believe it was mine. Not only had Rich done all the mechanical work for the helicopter, but he'd done some "body work." He'd painted the main rotor blades and they looked almost new. He'd touched up the side panels damaged by a dangling seatbelt during doors-off operations and had replaced the fairing damaged by a bird strike when the helicopter was only 11 hours old. The bill for all this work was quite staggering, but it was worth it to have the helicopter brought back up to near-factory condition by an experienced mechanic who obviously cares a lot about his work.
I retreated to his office and spent about 15 minutes doing some flight planning. I hoped to follow I-90 from Seattle all the way to the Columbia River, then head south for a stop at Desert Aire in Mattawa. Then I'd head north to Wenatchee to top off my fuel before landing at Quincy. This chart segment gives you an idea of my planned route:
I wanted to have the helicopter in its hangar before sunset — preferably before 6 PM. It was 2:30 PM and I thought I had a good shot at it.
The big question mark was Snoqualmie Pass. It wasn't a very high pass — only 3,004 feet — but during the past few days, it had been subject to foggy conditions due to low clouds. It was cloudy in Seattle (what else is new?) but it was a beautiful day in Quincy, on the other side of the Cascades. How would the pass be? I called Flight Service and asked. She didn't have information for Snoqualmie Pass, but she did have conditions at Stampede Pass, just to the south. "Visibility 10 miles" was all I had to hear. I was good to go.
Rich gave me some advice for departure. Ask the tower for a north departure, stay below 500 feet MSL as I climb over the hills, then head northeast to the I-90 floating bridge. Follow I-90 all the way. Pretty easy stuff.
I climbed in, started up, and warmed up. I listened to the ATIS; wind was light out of the south. When I asked for my departure, the tower assumed I wanted to take off into the wind. I asked to depart direct to the north. I was by myself and had plenty of power for a tailwind takeoff — especially one in such a light wind. I was cleared and took off.
I regret not setting up my video camera for the flight. I had excellent views of downtown Seattle as I headed north. I flew low over the hills northeast of the airport, being careful to remain north of Renton's airspace. I caught sight of the bridge and headed straight for it, climbing to 700 feet. I followed the bridge so I'd have a landing platform in the event of an emergency and crossed the lake. Then I headed up I-90, into the mountains.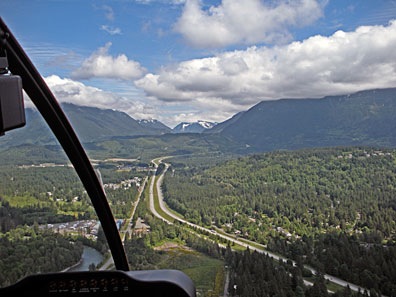 I took photos as I flew. Most of them didn't come out very well. The ones you see here are passable. In this shot, I've just left the Bellevue/Renton area. You can see the thick clouds hanging low over snow-capped peaks beyond Preston.
The flight was quiet. There weren't any airports along the way and my iPod's battery was unexpectedly dead. There was nothing to listen to.
The air was a bit bumpy — a 3 on my 1 to 10 scale of turbulence. (Later, I'd hit a few 8s that would require me to reduce power and speed.) So although flying conditions weren't perfect, they certainly weren't uncomfortable.
The scenery, however, was beautiful. As I climbed into the mountains, I got up close and personal with snow-covered peaks and saw more than a few waterfalls. This was a real treat for me. In Arizona, there's seldom much snow or big pine trees at the altitudes where I fly. And water! It was all over the place!
As I neared Snoqualmie Pass, the space between the mountains narrowed. I-90 wound along mountain slopes in a canyon. The clouds seemed lower. I began to wonder whether I'd be clouded in after all.

But then I was through the pass and descending past a series of long, narrow lakes on the east side of the pass. Beautiful scenery. I caught sight of a few grass airstrips along the way and found them on the sectional chart I'd left folded open on the passenger seat. I took a picture of one of them, but it was too out of focus to keep, let alone share here.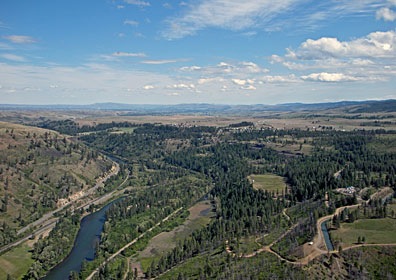 I continued my descent. Soon I was coming out of the Cascades, approaching the rolling hills so similar to those around Quincy. I overflew Ellenburg Airport and continued east along I-90.
At this point, you might be wondering why I didn't just cut to the southwest to my first stop. Unfortunately, there was a Restricted Area alongside the river there. By following I-90 and then turning south at the river, I could pass to the north and east of the area.
I crossed the river 1,000 feet above it, just south of the I-90 bridge. Then I headed south through a gap in basalt cliffs. And that's when I caught sight (and took a photo) of a typically nighmarish orchard setup. In this photo, you see fruit trees separated by tall poplar trees planted as wind breaks. The tall trees might be 80 feet tall; the trees in the orchard blocks between them might be 10 to 20 feet tall. If any of those trees were cherry trees, some poor pilot would be maneuvering between the tall trees after a rainfall to dry the shorter ones. I'm just glad none of these orchard blocks are mine.
I continued south to Desert Aire, a runway in a small planned community alongside the river. I landed at the north end, not far from an R44 parked on the dirt. To spare my blades any more wear and tear, I parked on the pavement. As I cooled down the engine, I called Jim, another pilot who makes and sells Robinson-compatible cell phone adapters. I needed one to stay in touch with the growers while I worked.
I'd never met Jim before, but we hit it off right away. The helicopter pilot community is small and we had several friends in common. He was a great guy who offered a bunch of advice for drying cherries. I soaked it in. We talked for quite a while — until after 6 PM — and I finally told him I needed to go. He gave me one of his units to try out for a while and I hooked it up. Unfortunately, it won't work with my Bose headsets, which have a special powered jack. I have to use it with one of my David Clark's. The battery is dead in the one with active noise reduction (ANR) and the helicopter seemed a lot louder than usual on my way north. But I called Mike once I was in the air — press two buttons on the phone and talk, then press a button to disconnect. The setup will also work with my helmet, which doesn't have ANR either. (I hope I don't suffer hearing loss by the end of the summer.)
Although I'd planned to stop at Wenatchee, I decided to go straight to Quincy instead. I'd fuel up the next day. I was tired and just wanted to put the helicopter away and go home to my camper. So I punched Quincy (80T) into my GPS, flew up the river past the Gorge Amphitheater (shown here), and homed in on Quincy, flying over my trailer at the golf course on the way.
When I landed, I kicked up enough dust to take some more paint off my blades. At least it wore off evenly. I'm glad Rich didn't see it.
But my day wasn't over yet. As I was pushing open the hangar door, it jumped its track. It was stuck open 4 feet. I couldn't budge it. So I called the guy who rented it to me, Mark. He was in town and promised to be there in 10 minutes. He and another guy drove up. The other guy had a crowbar. They pried the door up and back onto the track. Then they realized that the track had a break in it and needed welding. Mark promised to have it done the next day.
They supervised as I backed the helicopter into the hangar. It's a tricky thing. The hangar is not deep enough to park the helicopter with its blades positioned front and back, as I normally keep them. Instead, they have to be positioned on either side of the cockpit, like wings on an airplane. I have to back in almost exactly centered — too far to either side and a blade would hit the hangar wall. I also couldn't pull it back too far or the tail would hit the back wall. I was surprised at how easy it was to back it in, despite the restrictions. Unfortunately, it wasn't deep enough to keep the tow bar on the helicopter. Once the helicopter was in place, I had to disconnect the tow bar and move it to the side. Not ideal and not even convenient, but it works. It's good to keep the helicopter out of the sun and dust.
By this time, it was 7:30. I hadn't eaten anything all day except those stupid peanut butter crackers and a Milky Way Midnight candy bar. So I went to eat at one of the local Mexican restaurants. I ate only half of what was on my plate and took the rest home with me.
Alex was glad to see me.
But all I could think about was how good it was to have the helicopter back with me again and how much I looked forward to flying regularly.