We finish our journey with a flyby of Mt. St. Helens and a hair-raising (for me) descent to Boeing Field.
We'd stopped in Portland so I could get some specialized cherry drying training in preparation for my summer job in Quincy, WA. I worked with Dave, who was kind enough to spend some time with us, on Sunday evening to cover some of the basics over dinner. We flew on Monday morning. I'll go into detail about that flight — and even show off a bit of video — in another post.
When I was finished flying with Dave, Louis and I reloaded the helicopter and started north. We were on the last leg of our flight from Wickenburg to Seattle and had chosen a relatively direct route. Expected flight time was less than an hour and a half.
The day was overcast, with high clouds masking the sun. A dreary light illuminated the landscape. Although the temperatures were mild — in the 60s — it felt like winter. I didn't take many photos. The light was just too darn ugly.
As we flew, we had clear views of Mount Hood, Mount Adams, Mount St. Helens, and Mount Rainier, four of the tall peaks of the Cascades. All were covered with thick caps of snow. The photo below shows the south side of Mount St. Helens with Mount Rainier in the background (on the left).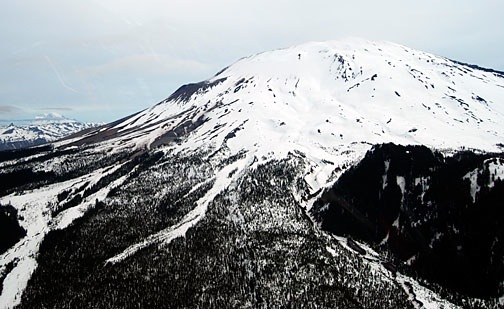 Our course took us quite close to Mount St. Helens. So close, in fact, that when Louis asked if I wanted to fly over Spirit Lake (see photo; Mt. Ranier is in the background), I said yes. Mount St. Helens, which was once just another beautiful snow-capped peak, had a massive eruption in 1980 that blew off its top and most of the north side of the mountain. Nearby Spirit Lake was the recipient of much of the ash and other debris that increased the water level and changed the look of the lake. The best views of the volcano are from the north, where you can see the lava flow and debris field. Since we were so close, it made sense to take a look. Here's a shot looking back to the south from near Spirit Lake.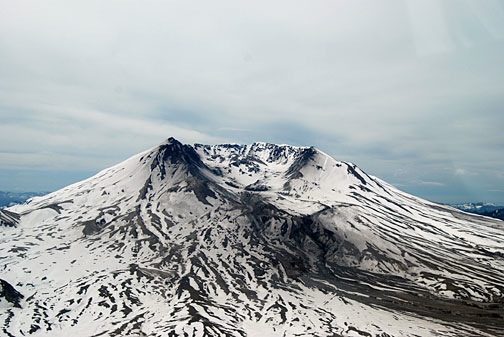 By the way, if you're ever in the area, visiting Mount St. Helens, I highly recommend taking a helicopter ride up the valley to the mountain. The views are up close and personal, much better than the photos here.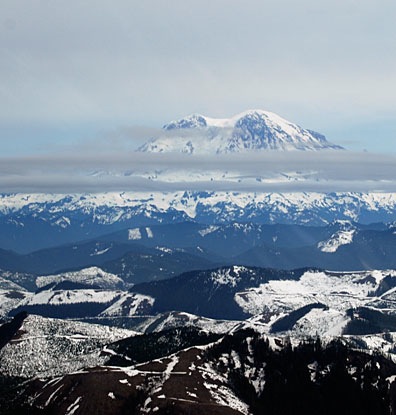 I punched Boeing Field (BFI) into the GPS and we got back on course. We passed far to the west of Mount Rainier, then headed inbound. Louis had done much of his training at Boeing Field, which is squeezed into a tight area north of Seattle-Tacoma International (SEA) and Renton (RNT), I so I turned all navigation and communication over to him.
In the meantime, I was getting seriously stressed about the amount of small airplane traffic around us, most of which was showing up as targets on the helicopter's TIS system. We were flying up in "airplane land" — the same altitude small airplanes fly at when they're trying to stay under the class Bravo airspace. This wouldn't have been so bad if we were talking to a controller who could advise us of traffic, but we weren't. I urged Louis to descend and he did. But it wasn't until we were cruising at about 500 AGL that I felt comfortable again.
We landed at Boeing Field and set down near Pad 6. The mechanic who was going to be doing my helicopter's annual inspection, Rich, came out to meet us. A while later, all of our gear was unloaded and they were wheeling Zero-Mike-Lima away. I wouldn't be seeing or flying it for more than two weeks.
We'd completed the flight from Wickenburg to Seattle in about 13 hours of flight time. Louis was home, but I was only halfway through my travels.