A quick report, with photos.
Louis and I flew from Wickenburg, AZ to Ukiah, CA yesterday. It was a very long but also very enjoyable flight.
We got off the ground around 6:15 AM, which Louis says is a big accomplishment for him. He's not an early riser like I am and waking up at 5 AM was a bit of hardship for him. But an early departure was vital. Temperatures in the Arizona and California deserts were expected to reach 100°F. We were flying west, so the sun would be mostly behind us during the 4+ hour flight. That was a good thing. But midday, the sun would be shining into the cockpit and no amount of forward speed would get cool air moving through the ventilation system. I wanted to be on the coast by noon. We met that goal.
Louis did most of the flying, I did all the navigation and radio work. I also took photos, although I didn't take as many as I could/should have.
From Wickenburg, we headed almost due west to Parker, AZ. I'm very familiar with this stretch, having flown to Parker many times. It's a pretty dull flight across the desert. We crossed the Harcuvar Mountains at Cunningham Pass, crossing one of the empty valleys where Patton once trained his tank corps. Patton's training area stretches for well over 100 miles between the area north of Chiriaco Summit on I-10 in California to the area north of Bouse, Arizona. From the air, you can still see the faint double lines of tank tracks criss-crossing the empty desert.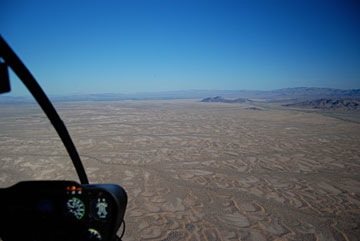 I took this shot over the Cactus Plains east of Parker, deep in the old training area. No tank tracks here — the ground is a sea of old sand dunes finally stabilized by the growth of small desert bushes and other vegetation. You can clearly see the patterns of the shifting sands. I included part of the instrument panel in this shot to give an idea of scale; we were flying at about 1,000 feet up, where Louis seems to be most comfortable. This shot also shows how barren the area is.
A short while later, we reached Parker, AZ, along the Colorado River. This shot shows most of the town. The end of the airport's new runway is on the right. The mountains in the distance are in California. The river is always beautiful and blue here because of the filtering action of the Parker dam less than 20 miles upriver that forms Lake Havasu.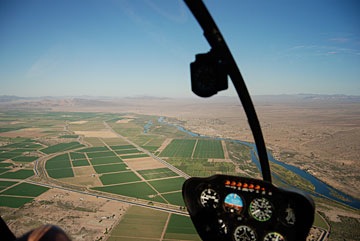 This shot is a view looking south from just south of town. The area along the Colorado river is a heavily farmed on the Arizona side here; farther south near Blythe, CA, the farming activity is primarily on the west side of the river, in California.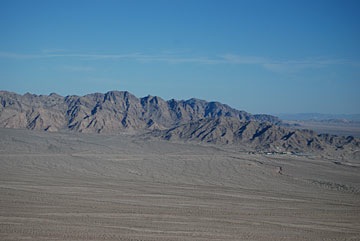 From Parker, we continued west toward Twentynine Palms, CA. This was probably the most dreary part of the flight — mile after mile of empty desert. I didn't take many photos. This shot of Iron Mountain gives you an idea. The cluster of buildings is a "substation" (according to my charts), but I don't know what kind of substation it is. The open canal winds its way to the base of the mountain and enters it there, coming out of the mountain on the opposite side. Are they generating electricity there? Or is it a pumping station? Either way, Louis and I agreed that it was weird for the canal to take a detour through the mountain when it could have easily followed the road. I'd love to learn more about this if anyone has info; I came up blank on a quick Google search.
I stopped taking photos soon after that. We continued through Twentynine Palms, then headed northwest around the mountains of Big Bear to our first fuel stop at Hesperia. I'd never been there before; I usually refueled at Apple Valley. But with a 50¢ per gallon price difference, I'd rather buy at the cheaper stop, which was only about 10 miles away. Louis landed on the runway and I hover-taxiied us through the dusty ramp area to the self-serve pump. We worked together to fuel quickly. It was getting hot — near 90° at about 9 AM — so after a quick bathroom break, we took off again. By that time, a bunch of small airplanes were coming in, probably to fuel up. Hesperia is the cheapest fuel around at $4.56 per gallon.
We continued west. The area beneath us was now densely packed with homes. We passed south of Palmdale Airport, flying between the canal and the main road. A while later, we were climbing into the foothills of the mountains. We passed just south of the Gorman VOR at Grapevine and continued on up a valley. It was a pleasant flight between rolling hills covered with green and tan grass and billions of orange flowers. Beneath us were ranches and small lakes — and the same road Mike and I had driven on two years before on a trip to Napa, CA.
Soon we were headed down the opposite side of the mountain toward the Pacific Ocean. I dialed in the ATIS and Tower for San Luis Obispo and started a dialog with the tower controller. She directed us to park in an area marked "No Parking" (which I still think is funny). We shut down and went into the restaurant there for lunch. I was surprised to see four airliners stop there during the short time we were there: American, Delta, US Airways, and United. They were all small commuter planes, although one of them was a jet. I didn't think San Luis Obispo was that popular.
After lunch, I made my first mistake of the trip: I decided to save 50¢/gallon (again) by repositioning the helicopter to the self-serve fuel area on the other side of the runway instead of buying it from the truck. It was a mistake because the tower made me sit for at least 10 minutes before repositioning and then at least 15 minutes before departing after refueling. I figured that I probably burned off my savings, just sitting there on the ramps.
Once away from San Luis Obispo, we headed northwest, intersecting the coast at Morro Bay. Anyone who has driven the Pacific Coast Highway (the PCH; Route 1) can tell you how incredibly beautiful it is from the road. But that's nothing compared to the view from 1,000 feet up, just off the coast. I took quite a few pictures; this is one of the funkier ones I took with my fisheye lens.
A while later, we took a detour past Hearst Castle at San Simeon. My camera was having trouble focusing through the Plexiglas — I really should have taken the door off — but I managed to get a pretty good shot of this monstrosity, despite the glare. Mike and I had visited it years ago and it really is amazing inside.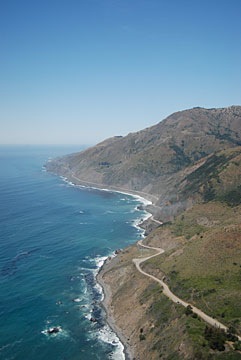 We continued north, hugging the coast. Although we were wearing life jackets — which insisted on — I didn't want to be beyond gliding distance of shore. Louis, who lives and trained in Seattle, is used to flying over water; I'm not. If we had a problem, I wanted to come down on dry land. Of course, for much of the distance, the only suitable landing zone on the coast was the thin ribbon of the PCH. An emergency landing would not be pretty.
I made my second mistake as we approached Monterey's class C airspace. We needed to go through the airspace, with the permission of the tower, to stay on our coastline course. Unfortunately, we were flying at 1,000 feet with 2,000-foot mountains between us and the tower. Instead of climbing right away as I should have, I waited until we were only 7 miles out. We still had to climb to talk to the tower. The tower told us to call NorCal approach. I did and received a transponder (squawk) code. But they didn't tell us we could enter. So we circled around just south of Monterey's airspace, waiting. Finally, when they figured they'd punished us enough, they got on the radio and told us to talk to Monterey tower. I gave them my request and was approved. We went back down to the coast to transition at 1,000 feet. The entire process took a good 15 minutes, but I learned my lesson. I'd call NorCal approach in the future.
We flew past Monterey and Pebble Beach, cutting across the peninsula to save time. On the other side, the tower instructed us to head due north, right across the bay. We were about three miles offshore, only 1,000 feet off the water, when I started getting nervous. I asked the tower if we could either come in closer to shore or climb. (I really do hate flying over open water.) The controller sounded annoyed, but let us come back to shore. Then he cut us loose, telling us to call NorCal Approach. I was glad to be rid of the Monterey area.
A while later, when we were still about 40 miles short of Half Moon Bay, we saw the marine layer starting to build along the coast. This was a bad thing for navigation. We'd planned on hugging the coast all the way to the Golden Gate so we wouldn't have to talk to San Francisco tower for a transition of the area. But with very low clouds blanketing the coast, that would not be possible. Louis wanted to climb above the clouds and follow the coast anyway, but I was definitely not interested in that. My VFR on Top experience is limited and it never included large bodies of water. Besides, what was the sense of flying above the clouds when we could fly somewhere else with a better view?
So we climbed to 2,000 feet and I managed to get the Flight Service Station on the radio. I asked if the low cloud condition persisted all the way to the Golden Gate. She told me that her satellite image was not that detailed. So we decided to take a more inland route. When she told us she couldn't give us flight following at our altitude, I volunteered to climb to 3,000 feet so she could see me on radar. I don't think she was happy about it. She turned us over to NorCal Approach just as we passed Half Moon Bay. I was glad we hadn't landed there for fuel, since the clouds had already covered half the runway.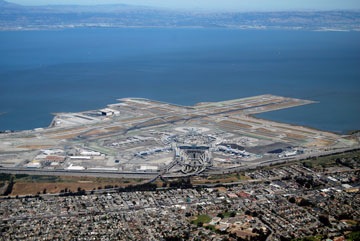 NorCal approach gave us a squawk code and confirmed that it saw us on radar. Then it turned us over to San Francisco Tower. They asked us to climb to 3,500 feet. That's like nosebleed territory for me, but we complied without complaint.
The view from up there was absolutely amazing, with the marine layer coming in from the west like a thick, white, wooly blanket. To the east, however, the airport and city remained perfectly clear. I got a few good shots as we flew through.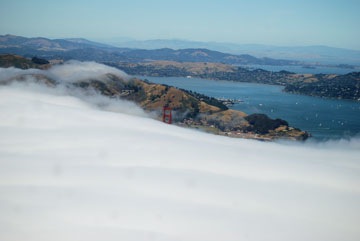 I also got a chance to show off my traffic information system (TIS), which only works in Class Bravo Airspace. It clearly identified a number of targets that we were able to see in the air. With the fog coming in through the Golden Gate, all the sightseers were out in their planes. The tower warned us about a small Cessna at our altitude as we approached the bridge area. He recommended that we climb, but since we were already a bit lower, I told him we'd descend. Louis dropped us down another two hundred feet and we passed behind him. I don't even think he saw us. I really don't like flying high because of the planes that are up there. There are seldom any planes down at 500 to 1,000 feet AGL.
San Francisco handed us off to Oakland Center as we continued up toward Sonoma Valley. We'd planned to refuel at Healdsburg, but the delays at San Luis Obispo and Monterey had eaten into our fuel reserves. We decided to stop at Petaluma, which was at 20-30 miles closer. When I told Oakland Center that we wanted to discontinue radar coverage because we needed to make a fuel stop at Petaluma, he asked if we needed any assistance. I guess he thought we were really low on fuel. I told him we were fine and squawked VFR.
Petaluma is a very pleasant airport. Louis set us down right in front of the self-serve pump and we shut down. Then we got right to work. We were both very tired and I know I just wanted to finish up for the day. It wasn't far to our overnight stop at Ukiah. We took off a while later and the heat hit us soon afterward. Inland, California was suffering a heat wave. We'd avoided the bad heat for most of the day, but it had finally caught up with us at 4 PM in that valley. The OAT hit 101°F at one point. The sun was coming in through Louis's side of the bubble. It was hot.
But we reached Ukiah quickly and without incident. The FBO guy topped off the fuel tanks and helped us get rooms and a cab. We wound up with a pair of "King Suites" at the local Comfort Inn for the astoundingly good price of only $89. Free Internet (WiFi or Ethernet), free breakfast, a pool, and a StarBucks right across the parking lot. Who knew traveler heaven could be found in Ukiah, CA?
We'll be hitting the skies again by 9 AM to complete our flight to the Troutdale-Portland Airport. It's only about 4-1/2 hours of flying with just one fuel stop. I hope to share more photos in the next entry.