Or why I'm not blogging as regularly as I should.
I'm deep into preparations for my summer-long trip to Washington State and Page, AZ. And it seems that every other week, I'm traveling. And I have two video training courses to record for clients. And I caught a bit of a bug that had me out of action for about a day and a half.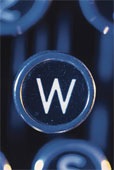 And the W key on my MacBook Pro is not being very responsive.
I've also been reading, and when I read, I have less time to write.
Those are just some of the excuses I can offer as to why I'm blogging once or twice a week rather than once or twice a day.
But I'm working on a few blog posts now and hope to release them as they're finished. Getting started is always the hardest part, so I thought I'd start a few of them at once and let them sit in ecto until I'm ready to finish and publish them.
Let's see how I do.