Just a few shots taken by a French photographer.
Back in January, I wrote a blog post called "Over Quartzsite." In it, I told the story of a photo shoot over Quartzsite, AZ.
The post was remarkable in that it got a comment from someone who had heard about my overflight from one of the folks on the ground that day. It's always rewarding when I write about one of my experiences and someone who was there from a different point of view comments on it.
Anyway, I didn't hear anything from the photographer after the flight. Until today. He e-mailed me:
My story about QZ was published last week in France, six pages in a weekly.

I attached few of the aerial shots. Photos 1 & 2 were published.

For your private record you can post it but don't give them away.

Also, I did again overnight park my camper outside a motel.
On Superbowl Sunday, I drove to Blythe and book a room to watch the game.

Good flights in your lovely state.
Attached to the message were five images that he took that day.
I asked his permission to reproduce low-res versions of the images here. He graciously said yes. If you read French, you can find his article at http://www.vsd.fr/contenu-editorial/photo-story/l-oeil-de-vsd/
58-arizona-les-papys-font-de-la-transhumance. All of the aerial photos were taken from my helicopter.
Here are the three I like best.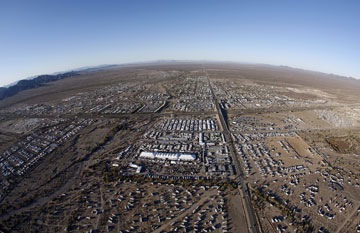 This photo shows a super wide angle view of Quartzsite from the south, right around sunset. No, we weren't high enough to see the curvature of the earth — that's the effect of the photographer's wide-angle lens. (Apparently, I'm not the only one who likes fisheye lenses.) In the foreground is the big tent for the RV show. This is the biggest week in Quartzsite. This, by the way, is what he refers to as Photo 2. I think it's the best of the bunch.
This shot was taken from the east side of town looking west, not long before sunset. The main road you see is I-10; it's in the other shot, too. All those white specks are RVs — people dry camping out in the desert on BLM land.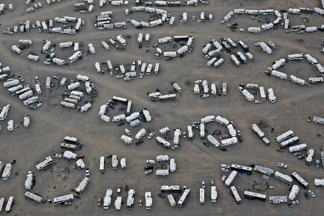 I love this shot. It shows a typical area of RV campers. Makes you think of old westerns, doesn't it? Circle the wagons, boys! We must have spent 20 minutes circling this huge parking lot — I think he took dozens of photos. I think I like this shot because it makes you feel as if the same pattern of circled RVs exists infinitely in this area.