Not likely.
Here's the TFR graphic for the Super Bowl. As you can see, Wickenburg (E25 in the northwest) is one of the few airports outside the forbidden circle that marks a 30-mile radius from the stadium in Glendale.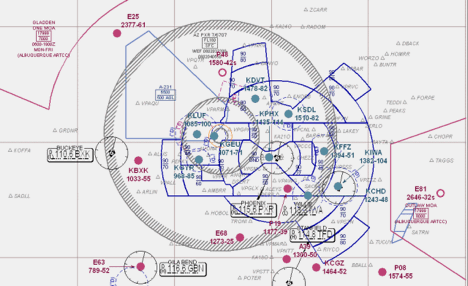 I just spoke to my FAA guy in Scottsdale and received confirmation that the only flights allowed within the circle after noon on game day will be police and security aircraft. Glendale Airport will be closed to all traffic. And they'll definitely be writing up violations for the folks who bust that circle.
What does this mean? Well, it means that although I can fly all day out of Wickenburg if I stay to the north and west, I'm certainly not going to be ferrying folks around Phoenix. This is a good thing — I was really starting to get worried about dealing with security anyway.
It'll be interesting to see how many F-16s get scrambled to chase down Cessnas that day.
I have a great gig lined up the day before in Parker, AZ. Maybe I'll just spend an extra day there.