Things change.
We first visited Las Vegas, NV back in the late 1980s. I was working for ADP at the time as an Internal Auditor. Each spring, they'd send me to Los Angeles to do a three-week audit of their Employer Services location in Buena Park. The deal was, they'd either fly me home for one of the two weekends or fly my significant other out. We always had them fly Mike out on the second weekend. He'd spend a week goofing off while I worked each day, then I'd take a week off and go on vacation with him before we both flew back to New Jersey. We saw quite a bit of the western part of the state that way, with my company picking up the airfare for our vacations.
In 1988 or thereabouts, we finished up my April visit to Los Angeles by renting a car and driving to Death Valley, Las Vegas, and Lake Mead. We did a lot of camping, but also stayed in hotels.
Las Vegas was an afterthought. We're not gamblers and, back then, Las Vegas wasn't quite what it is today. We figured that since we were in the area, we'd spend the night before heading out to Lake Mead, a mere 20-30 miles away.
We had no reservations, so we used the AAA travel guide — which was our bible during our early explorations — and found that the Frontier Hotel had rooms within our price range. We drove up, parked right in the driveway under the overhanging sign, and went in. We got a room somewhere in there — I don't remember the details well, so it couldn't have been too good or bad — moved the car to a regular parking spot, and settled in.
The most memorable part of the Las Vegas stay was walking from the Frontier all the way to the Tropicana along the Strip — a distance of about two miles. I wore moccasins in those days and had made the fatal error of going sock-less. The blisters on the backs of my heels were terrible. We had to take cab back.
We did see the show there — Folies Bergere, which is still running — and it was the first time I'd ever seen tasteful topless dancing. (And yes, I've been to New Orleans.)
Anyway, this past weekend, Mike and I went back, mostly to visit with some friends of ours who were in Las Vegas on business. We've been to Las Vegas dozens of times since that first stay and have watched it change from a quirky gambling town to the outrageous mega theme park it is today. But this last stay took us on a walk past the old Frontier. I wasn't surprised — but I was kind of sad — to see it being torn down.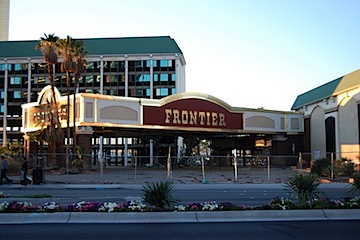 This photo shows the main entrance to the place as it looked on Friday, December 14. For all I know, it might be completely gone today, only 4 days later. That's the overhang I remember driving under in our rental car while we went in to get a room.
Las Vegas is changing faster than anywhere else. I wonder how long before the hotels that were built since our first trip there will be torn down to make room for even newer ones?