Final chapter of my Las Vegas travel saga.
When you last heard from me here, I was stuck in Las Vegas, victim of a shattered alternator belt. My helicopter was sitting on the ramp at McCarran International Airport and I was sitting in a recliner in front of an HD TV, contemplating whether I should order a pizza while I waited for a mechanic. (I know. Not exactly a tough situation.) In case you're wondering, I wound up ordering an eggplant parmesan sandwich (which was excellent) and a minnestone soup. That was at about 3 PM local time, a full 3 hours after my aborted departure from Las Vegas.
By 4:30 PM, the mechanic still had not come. But he called. He wanted to know if the helicopter was in a hangar or could be put in one. It wasn't and it couldn't. He was concerned about light, since the sun would be setting soon. I was equally concerned. I didn't want him working in questionable lighting conditions. I'd already lost one part in flight; I didn't want anything else falling off the helicopter on the way home.
So we agreed that he'd come first thing in the morning. To him, that was 6 AM. I'm an early riser, so that wasn't a big deal to me. And the sooner he started, the sooner he'd finish. There was weather on the way.
Sleep Like an Egyptian?
I tied down the helicopter's blades, rented a car, and got a room at the Luxor. That's the pyramid-shaped hotel, which is currently sporting a huge ad for Absolute vodka on its front (east) face. I'd stayed at the Luxor when it was brand new and it was a very nice hotel. Now it's 12 years old and it's really showing its age.
Twelve years ago was the start of that confused period in Las Vegas when hotel/casino designers thought they could attract more people by including family-friendly attractions in their hotels. (This is something Circus Circus had tried years and years ago and evidently found some success with.) So the original Luxor included an indoor boat ride (with a river that wound around the entire inside edge of the building), virtual reality games and rides, an IMAX theater, and other amusements. The river was the first to go; a Las Vegas local told me that it leaked when the riverbed started cracking as the building settled. (Oops!) Since then, like most other Las Vegas casinos, they've been reinventing the interior. Right now, the emphasis seems to be on bars or what they call "ultra lounges." There's a ton of construction going on on the main level.
My biggest gripe with the hotel is that I simply can't find my way around. It's got four sides, right? You'd think they'd identify them somehow from inside so you can figure out where you are.
Another gripe (but not mine this time) is the elevator system. The hotel has what are called "inclinators" in each corner of the pyramid. An inclinator is an elevator that climbs on an angle. This is necessary due to the shape of the building and the fact that the entire interior is a huge atrium. There are four inclinators in each corner. Unfortunately, each one only goes to 8 to 10 floors. So you have to walk to the correct inclinator and take one of its four cars to get to your floor. Then, once you get to your floor, you have to walk to your room. This has the potential to mean a lot of walking. Imagine you're at the southwest corner of the hotel and your inclinator is at the northeast corner. Even if you cut through the middle of the main floor (winding your way through the construction zone), you've got a long walk. Now suppose your 5th floor room is near the southwest corner. You go up 5 flights, then have to walk two sides of the pyramid (no cutting across the open atrium) to get to your room. Because you're on a low floor, each side is still quite long. (The upper floors have very short corridors.) You could easily walk a half mile on this journey.
The reason this didn't bother me on this trip was because my room was in the corner, right by the elevator. What luck!
Of course, the hotel did have three separate Starbucks coffee shops. (I can't make this stuff up.) One of them was open 24/7. Whoa!
I had what they call a "jacuzzi suite." This is a two-room room that includes a large jacuzzi tub right by one of the windows. (Think honeymoon or romantic getaway.) I love a good soak in a deep tub, so this was a nice feature for me. Back when the hotel first opened, you could get one of these rooms on a weekday night for $79 (if nothing else was going on in Vegas that week). Nowadays, it's a bit more. It's a good party room, with plenty of space, two TVs, and a fridge. Way more than I needed for an overnight stay. The room's layout is pretty dumb, though and because of the sloping side of the outside wall, it's sparsely furnished with a few Egyptian-themed pieces. No heavenly bed.
After checking in, I went down to the bar for a martini. I tried Ciroq vodka this time. It was so-so. I still like Ketel One better. They serve martinis in 10-oz glasses and my glass was full. The drink cost $14, but since it was like getting at least two drinks in one glass, it didn't seem outrageous.
Afterwards, I went for a walk toward Mandalay Bay. There's an inside corridor, lined with shops, that goes from Luxor to Mandalay Bay. I spent some time in Urban Outfitters, just looking at all the weird stuff they had. Then I browsed the rather excellent little bookstore on the main floor near Mandalay Bay's entrance. I walked away with two books. One shows "then" and "now" photos of Las Vegas and the other is a history of Las Vegas. I'll be sure to bring them with me on my next trip so when I get stranded again, I'll have something to read.
Back at my room, I spent some time browsing the photo book while soaking in the tub. Sadly, the lighting over the tub isn't very good — probably so you don't illuminate yourself (or your tub activities) for the benefit of the folks in the high-rise tower across the road. My middle aged eyes struggled with the tiny print in the book, so I soon put it aside and got into some serious soaking. I felt like I needed to get my money's worth from the tub.
I set the alarm before going to bed at about 10 PM. I spent some time watching a TV show about Area 51 on the Las Vegas visitor center channel. It was a History Channel presentation created in the days before documentaries were filled with repetitive fluff and weird camera angles. It was very good. Oddly enough, the airplanes that fly back and forth between Area 51 and Las Vegas were parked right down the taxiway from my sick helicopter.
A Morning on the Ramp
I was up before the alarm. About an hour before it. So I took my time getting my act together. By 5:15 AM, I was downstairs, buying an eggnog latte at the all-night Starbucks.
A note here: there's nothing quite as surreal as a Las Vegas casino floor in the predawn hours.
After getting directions to the west side of the hotel, I tracked down my rental car and headed out to the airport. I brought along my laptop, figuring I'd use the FBO's Internet connection to do my e-mail and perhaps write a blog entry.
The mechanics, Luis and Alex, showed up at 6:30 AM. I had just finished checking my e-mail (and deleting pingback spam). I soon learned that because the FBO's main office didn't open until 9 AM, we couldn't get them a ramp pass. That meant I'd have to stay with them out on the ramp while they worked on the helicopter. Not exactly my idea of a good way to use my time, but what could I do? Who knows what havoc two helicopter mechanics could wreak out on the ramp with a handful of wrenches and a 15-volt Dewitte cordless drill?
[Of course, I didn't expect to be hanging around the ramp, so I didn't bring my good camera. The photos that follow were taken with my Treo so they're pretty bad. But they do show the scene reasonably well.]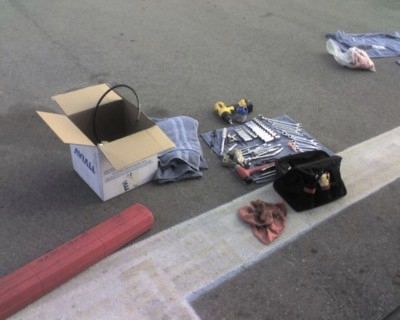 The folks at the FBO drove us and the tools out to the helicopter. Luis and Alex wasted no time setting up a work area on the pavement. They spread blue shop towels on the ground and neatly arranged their tools. Then they got to work removing the rear panel of the helicopter.
Let me take a moment to explain this operation.
Robinson makes a great helicopter, but it doesn't make it easy to replace something as simple as an alternator belt. To get this job done, you need to take off the rear panel and the fan scroll it hides. There must be at least 100 screws involved in this process. The panel comes off quickly but the fan scroll doesn't. It must have taken them the better part of 45 minutes to get the damn thing off. Then they had to loosen all the clutch belts (there are four) before they could get the alternator belt in place. This photo shows Luis at work with the clutch belts just before putting the alternator belt (being fetched by Alex) on. Then put everything back together. And when they're done with the fan scroll, they have to balance the fan, which requires hooking up specialized electronic equipment, starting the helicopter, and if necessary, adding weights to the fan's blades.
On an R22, many mechanics fasten a spare belt in the engine area just beyond the belt in use. Then, when your belt breaks, you can just slide the replacement belt into place and be done. Evidently this isn't possible on an R44.
Also, on an R22, there's a maintenance procedure that requires the fan scroll to come off every 300 hours. The mechanics for helicopters operating in hot, dry environments (like Arizona) usually replace the alternator belt then. Sure, you spend $40 on a belt, but you save $1,000+ in the labor to pull all that stuff off, since it's already off. It's preventative maintenance.
My helicopter's rear end has been off twice: once for a clutch down-limit switch and once for a starter and ring gear. I don't think my mechanic in either instance replaced the alternator belt. (Need to check my log book to see for sure.) So it might have had 580 hours on it. In Arizona. Luis says the belts at his organization rarely last more than 300 hours. No wonder the damn thing shattered.
I spent much of the time standing around, holding the rear fairing so it wouldn't get blown away by passing helicopters, chatting with the few people who came by. First, it was the FBO line guy. Then the mechanic for one of HeliUSA's Astars, which needed its blades balanced. Then the pilot for the helicopter getting its blades balanced. All the while, the clouds built. The sun disappeared and it got cold. This photo shows the view of the ramp from the helicopter. HeliUSA is getting a batch of tour passengers while the mechanic works on the blades of one of its helicopters. You can see the Luxor in the distance.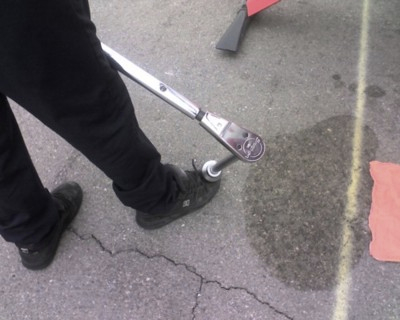 One of the highlights of the repair — at least for me — was the giant torque wrench. This is the legendary tool that separates wannabe Robinson mechanics from real Robinson mechanics. The reason: it supposedly costs a small fortune and it only used for one thing: to tighten the giant nut in the middle of the fan. The wrench comes in a red plastic case and sits, in two pieces, on specially cut padding. When assembled, the thing is about 4 feet long. They put a socket wrench head on the end of it to use it. It's a two-man job, with one man wielding the wrench while the other uses a 3-foot bar of aluminum set up as another wrench to hold the bolt (or whatever is back there) in place. It took them four tries to get the bolt lined up just right so they could put the safety wire in place.
Three hours after they started, they neared completion. The only task left was to balance the fan. They hooked up their wires to the outside of the fan and ran them into a special electronics box that sat on the front passenger seat. Alex and I moved all the loose tools and parts 20 feet back on the ramp. Luis started up the helicopter and warmed the engine. Soon he had it at 100% RPM. He even did a mag check. For a minute, I thought he was going to fly away.
Alex and I watched. I held the rear fairing so the downwash wouldn't blow it away. Then Luis was looking at us, grinning, giving us the thumbs up sign. The fan was in balance and wouldn't need any adjustments. They — and I — had lucked out.
That's when it started to rain.
We gathered the tools together and flagged down the FBO van. It was raining pretty hard by the time we got inside the van. The driver took Luis and Alex to their trucks. I helped them offload their gear. Then I shook their hands and slipped Luis a folded bill, telling him to split it with Alex. At first he didn't want to take it. Then he tried to pass it to Alex, who wouldn't take it. Finally he said, "We'll go out to lunch."
"You'll have a good lunch," I told him. I don't think he realized that the face on the bill was Ben Franklin's. I really appreciated them coming to help me out, working on the ramp, in the cold.
IFR to Wickenburg — Sort Of
I went back the FBO and used their computers to check the current weather. The radar showed a nasty picture of heavy rain coming our way from the southwest. The ceilings had dropped, but the visibility was still good. I could wait it out or try to get ahead of it. But since I hadn't packed — after all, I expected to have all morning to do that — I still needed to get back to the hotel to fetch my stuff. By the time I finished doing that, the worst of what was coming would be upon us.
So I went back to the hotel, had a good breakfast (since I'd be skipping lunch), and went back up to my room to pack. Somewhere along the line, I remembered that there was a one-hour time difference between Arizona and Nevada. So when I reached McCarran and returned my rental car, it was 1 PM back home, even though it was noon in Las Vegas. If I didn't get my butt out of Las Vegas within an hour or so, there was a chance I wouldn't make it home before sunset. And the only thing worse than flying in weather is flying in weather at night.
I checked the weather again. It looked as if I'd be in the relatively clear if I followed route 93 from the Hoover Dam to Kingman; the rain stopped halfway down that route. Following roads would be a good idea. In fact, that was a joke among pilots: IFR means "I Follow Roads."
(For those readers who are not pilots, let me explain the joke a bit. There are two ways to fly, as far as the FAA is concerned: VFR or IFR. VFR stands for Visual Flight Rules. It means you're flying with visual references to the ground, horizon, etc. In other words, you can see where you're flying. My helicopter is VFR only, meaning even though I have enough instruments to get me out of trouble if I lose visibility, it's not legal for me to fly IFR. IFR, on the other hand, stands for Instrument Flight Rules. That means you're flying by referencing your instruments only. All aircraft above 18,000 feet in the U.S. (and probably worldwide) fly IFR. You also must fly IFR if conditions are IMC (Instrument Meteorological Conditions) or poor visibility. There are a bunch of rules that define IMC. The joke comes with IFR meaning "I Follow Roads" — which, of course, is not what IFR means. But VFR pilots do follow roads on occasion. I was going to follow roads in case I had to make a precautionary landing; I wanted to be near a road in case I needed a lift somewhere. Other times, VFR pilots follow roads simply because they lack navigation skills or equipment and don't want to get lost.)
So I called Mike and told him I'd follow route 93 all the way to Wickenburg. I hate that route, primarily because it's so boring, but it is relatively direct from Las Vegas. Unfortunately, it doesn't have many airport landing opportunities: just Boulder City, an unnamed dirt strip about 40 miles south of the dam on 93, Kingman, and Bagdad. Of those, only Boulder City and Kingman had amenities like fuel, food, or lodging.
Then I went out, started up, and prepared to leave Las Vegas. Again.
The tour helicopters were all on the ground and there wasn't much jet traffic. I saw one jet depart on Runway 25 and disappear into the clouds. My helicopter bubble was spattered with raindrops, but that didn't worry me. I knew that as soon as I started moving, they'd roll off and I'd have no trouble seeing.
I did take a moment to rig up my camera with the 18 mm lens on the tripod. I figured I'd take a few shots to show how bad the visibility was. As it turned out, the camera didn't actually snap photos most of the time I pushed the cable release button. When set on autofocus (as it was), my camera simply won't take a photo unless it can focus the shot. And with all the rain on the bubble, it wasn't sure what to focus on. So I only got about 25% of the images I expected to have.
I took off, tracing my route from the day before. I almost expected the Alt light to go on again. But it didn't. I headed east on Tropicana to Lake Las Vegas and then Lake Mead.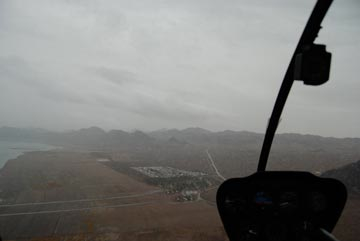 I was near Boulder Beach at 2500 feet (see photo), surveying the low clouds in front of me when I spotted a helicopter a bit lower to my right. I made a radio call on the tour pilot frequency. The pilot responded, saying he was at 2000 feet, landing at the Hacienda (a hotel near the dam where a tour operator does 8-minute dam tours). If he was doing dam tours, I figured, it couldn't be too bad at the dam.
The clouds ahead of me looked low and nasty. I unexpectedly flew right into them just when I caught sight of the dam.
For a VFR pilot, there's nothing quite as unsettling as flying into clouds. Although I never completely lost sight of ground references, I lost enough sight of them for that 2 seconds of IMC to feel like 2 hours. I cut power to slow down and started a left descending turn. I popped out of the clouds and kept descending, just to make sure I didn't pop back into any.
So following 93 from the dam would not work. I couldn't even see route 93 beyond the dam, where it climbed into the mountains on the east side of Black Canyon.
The way I figured it, I had three choices:
I could go back to Las Vegas, and wait it out, perhaps for another day.
I could land at Boulder City and wait it out, perhaps for another day.
I could try flying down route 95 past Boulder City, Searchlight, and Kidwell, to Bullhead City.
Option 3 looked to be the best. If things on 95 looked bad, I could always come back to Boulder City. So I punched Boulder City into my GPS, tuned into its frequency, and headed south.
I won't bore you (any more than I already have) with the details. I flew south along 95, keeping 300 to 500 feet off the ground. The clouds were right above me and, between Searchlight and Kidwell, were actually scattered below me for a short time. I never lost sight of the ground and could always see a few miles ahead of me. The rain came and went. I listened to my iPod and kept the heater on. At one point, the outside air temperature was 6°C.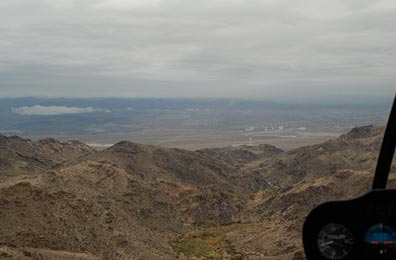 When I reached the California – Nevada border, I turned right, following the road that led to Bullhead City. I called the tower there as I crested the ridge and began my descent into the Colorado River Valley. It was remarkably clear down there, although low clouds hung in the mountains to the east of Lake Mohave, north of Bullhead City. As usual, there was nothing going on at Bullhead. I got clearance to follow route 95 (now on the Arizona side) south.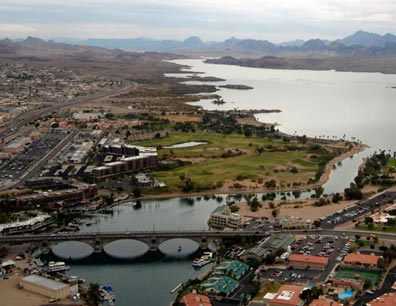 Conditions, in general, were much better as I made my way to Lake Havasu City. I even departed from the road route for a 10-mile stretch between Topock and Lake Havasu. I got some so-so photos of London Bridge as I passed over town. (It's nice to have 10 megapixels when you need to crop an image.)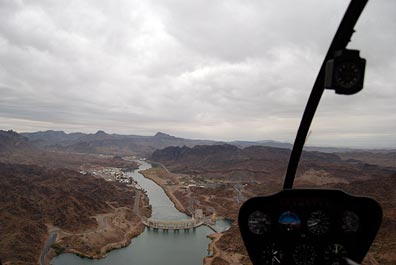 When I reached the Parker Dam, I had to make another decision: go the direct route or continue following roads? As much as I wanted to go direct, I couldn't. Mike thought I was on route 93 and I wasn't. If I went down somewhere in the desert, they'd never find me because they didn't know where to look. If I followed 95 and other roads, if I went down, it would be near a road and I'd be found. So I didn't really have a choice. I continued south over 95, over the river.
When I neared Parker, I realized that I might not have enough fuel to make Wickenburg. Well, let's put it this way: if I went direct from Parker, I'd make it, but it would be close. A smart pilot flying in weather does not make foolish fuel decisions. I landed at Parker to fuel up, since it was my last chance for fuel until I got to Wickenburg.
Parker's airport is on the Colorado River Indian Tribe (CRIT) reservation. Usually, its fuel prices are outrageous, but since there's no place else around to get fuel, people pay. But that day, fuel was $4.52/gallon. That was cheaper than Wickenburg. I told him to top off both tanks.
Unfortunately, his fuel truck had a problem. When he drove it, AvGas leaked out. For a tense moment, I thought he was going to tell me he couldn't fuel me. That would mean a detour to Blythe, which was seriously out of my way. But when he turned on the fuel pump for the truck, the leak stopped. He topped off my main tank with 19 gallons of 100LL and gave up. I was satisfied.
I called Mike and told him where I was. I said I'd either go direct to Wickenburg or follow roads. When I got airborne, I made my decision: direct.
(This photo, by the way, is of what I believe is called the Cactus Plain. It's an area of old sand dunes with sparse vegetation. Patton trained his tank forces in this area in the 1940s before sending them to battle the Germans in north Africa. In some places of this huge training area, you can still see the tank tread tracks from the air.)
It turned out to be not such a good decision. When I reached the valley just north of the Harcuvar Mountains, I started hitting turbulence. There was a cloud sitting on top of the mountain, but Cunningham Pass, where the road to Alamo Lake runs, looked clear. I headed toward it. The turbulence got stronger. I was being tossed all over the sky, 500 feet off the ground.
I was in a pinch. If I went higher to try to avoid the turbulence, I'd get close to the clouds and could get pushed into them by an updraft. If I went lower to try to avoid the turbulence, I'd get close to the ground and could get pushed into it by a downdraft. If I tried to land and there was a lot of wind shear, the landing could get ugly. So I had to stay right where I was and ride it out.
Once thing was for sure: I wasn't getting through Cunningham Pass. That meant flying east in the valley north of there until I could round the side of the mountains and head southeast.
It wasn't pleasant. The turbulence was bad, even worse than what I'd encountered on the east side of the Sierras on a trip in my R22 years before. It would be very rough for about 5 minutes and then calm down. Then, just when I thought it was over, it would start up again. This happened about five times. I was flying at about 80 knots, just trying to get out of that valley. I was convinced the turbulence were caused by wind coming over the Harcuvars.
I was 30 miles out from Wickenburg when I started calling for an airport advisory. I figured that if the wind was howling there, I'd detour to Alamo Lake or the Wayside Inn and wait it out there. I didn't get an answer. I kept flying, making a call every 5 miles. Visibility varied ahead of me. The turbulence stopped as I chose my route carefully to avoid low clouds.
I crossed over my first paved road since leaving Parker: route 71 from Congress to Aguila.
I finally got a response to my call. Winds at 2 knots and the usual inaccurate altimeter setting. (At least, I assume it was inaccurate; it always is.) I asked about visibility and was told it was "about two miles." It was better than that where I was, so I kept coming. The FBO guy got on the radio and said that he thought the visibility might only be a mile. By that time, I was only 3 miles out and I could see the airport. I thanked him and kept coming.
A while later, as I shut down the engine, I thought about how good it was to be on the ground.