Some photos of my Thanksgiving trip to New York and New Jersey.
Last week, I went to New York with my husband, Mike. We spent a few days in Manhattan, visiting our old stomping grounds, then headed to New Jersey to spend a few days at my brother's house in Colonia (near Rahway). Along the way, we made a quick stop in Queens for an unremarkable Thanksgiving dinner at an Italian restaurant.
I brought two cameras with me: my Canon Powershot 500 and my relatively new Nikon D80. It was a good thing I brought 2 cameras. My recently repaired Canon crapped out on me again. So most of the photos were taken with the Nikon.
I just put the photos on my iMac and looked at them. I thought I'd share a few with readers. They may not be the best photos of New York and the vicinity, but I'd like to think they're at least a little bit interesting.
The Flight
When you have 4+ hours to kill in coach on a Phoenix to Newark flight, you do run out of things to do. I killed some time playing with my new 10.5mm lens. Here's a look out the window. I think we were over Kansas or maybe eastern Colorado at the time. See the checkerboards of the terrain?
If you've never flown across the country during the day, do it and make sure you get a window seat. If the weather is clear, you'll get an education about the geography of the United States that no textbook can offer. I always sit by the window when I fly and I spend much of the flight time with my face right up against the Plexiglas.
Into Manhattan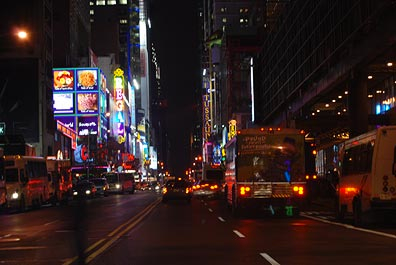 After landing at the airport and getting a much-needed shoeshine in the terminal, we made our way to the rental car area and picked up our Avis rental car. Mike then drove us right into the city, by way of the Lincoln Tunnel. This photo was taken as we made our way across town toward Times Square. Okay, so it's not the best image. But what do you expect? The camera was sitting on the dashboard and we were stopped at a light. You can see the shadowy figure of a pedestrian crossing the street — this was a long exposure.
The View from Our Room
Our tiny but comfortable room at the Sheraton Hotel and Towers on 52nd and 7th was on the 37th floor. From the big windows, we got a glimpse down into Times Square. I set up my tripod on the desk along the windowsill and captured this image as we settled down for our first night.
Did you know that the Sheraton we stayed at is the flagship Sheraton hotel? That's what it said in the hotel services guide in the room. I do know that it was the nicest Sheraton I'd ever stayed at. Sheratons, in general, aren't so good. I prefer Marriotts. I used to like Hiltons, until my multiple-week stay at the Mount Laurel Hilton in New Jersey. But that's another story.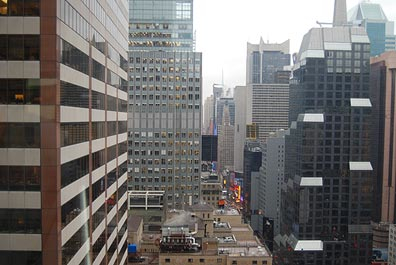 Wondering what that view looked like in daylight? Wonder no more. Here it is. Not quite as colorful or glamorous on a gray New York day. The buildings in the foreground are all office buildings. There was a very large conference room right across the street from our room; they had a big meeting in there the day we left.
Rockefeller Center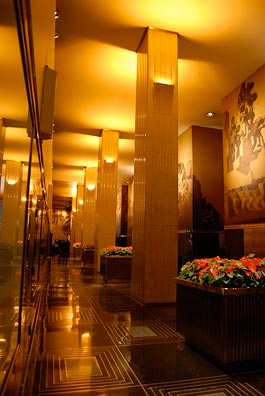 On Tuesday we did a lot of walking. That's the best way to get around in New York. My only wish was that I'd brought thinner socks — my heavy cotton socks aggravated my 25-year-old corns. But that's probably more information than you need, so I'll stop there.
We went to Rockefeller Center first. This photo was taken inside the GE building (formerly the RCA Building), an Art Deco masterpiece on 6th Avenue. This particular photo was taken right after security told me I couldn't set up my tripod. I was very disappointed. (I'm being polite here.) The color of the light is the actual color inside the building — very yellow.
We didn't stick around for any more indoor shots. Instead, we went outside. I got a photo of the Promenade, but rather than show it here, I'll show you the one I took that night. Keep reading.
Grand Central
It's Grand Central Terminal, not Grand Central Station. Many people get that wrong. It doesn't matter. It's Grand Central and it's a magnificent piece of architecture on 42nd Street at Park Avenue.
This photo shows the Concourse, taken with my 10.5mm lens from the steps up to one of the restaurants. No tripods here either, I'm afraid. Not without a permit. (Can you believe this crap?) So I set the camera down on the railing and used the self-timer to snap the picture. What I like about it — other than the outrageous curves — is the motion of the people down below.
The ceiling of Grand Central's main concourse shows the constellations — cream colored stars with drawings of the constellation figures. Incredible. And the windows you can see at the far end are actually huge — about 8 stories tall. The horizontal lines across them are walkways where people in the office spaces above walk from one side of the building to the other.
Back in the mid 1980s, when I worked for the City of New York, I had a job on Madison at about 45th Street. Each day, I'd take the subway up to Grand Central and walk across this concourse from the lower-left of this photo to the middle right. There were underground corridors you could follow for blocks, keeping you out of the elements. One of the corridors was carpeted with multi-colored carpets at the time. They were doing a test. In those days, they used to judge how durable carpets were by putting them down in Grand Central and letting commuters walk all over them all day long.
The New York City Public Library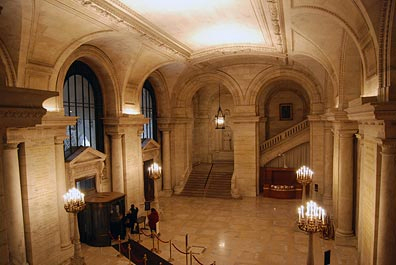 The New York City Public Library is a monument on Fifth Avenue at about 40th Street. People know it for the matched statues of reclining lions out front. But few tourists ever step inside to see how incredibly beautiful it is.
This photo is of the main entrance hall, taken from the north stairway. This is mid-day on a Tuesday. Not terribly busy. We'd walked through a Jack Kerouak exhibit downstairs before climbing up and wandering around the exhibits. Highly recommended. You can't get more culture for less money anywhere in New York — it's free.
And yes, I did get a few lion photos outside. But you don't need to see them.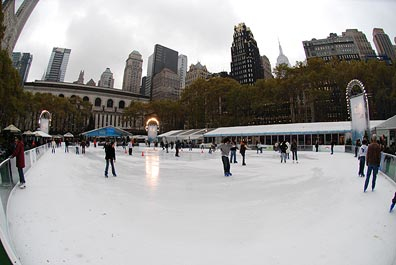 Out back, in Bryant Park, they'd set up a skating rink. This shot, taken with that funky 10.5mm lens again, shows the rink, the back of the library, and a few of New York's skyscrapers, including the Empire State Building. There were craft vendors set up all around the rink for the holidays.
Back when I worked for the City, I had a job on 41st between 7th and 8th. Yep — right by Times Square. Once in a while, we used to walk up to Bryant Park with our lunch. It was summer and it was hot. The park was filled with druggies back in those days, but they didn't bother us. The Stand Bookstore had a row of kiosks along 6th Avenue, filled with used books, and I'd occasionally pick up something to read. They tell me Bryant Park has been cleaned up. It certainly looked friendly that day.
Times Square
I'm convinced that the best way to take photos in a place as busy as Times Square is with a wide angle lens. Can't get much wider than this. I know it looks funky, but it really does show a lot. And if your mind can take out weird curves — since Photoshop can't seem to do it — you can get a real feel for what's there.
Times Square used to be a real sleaze pit. Now it's just a very dirty, very brightly lighted place where a lot of tourists come for reasons I can't quite understand. They must be like moths attracted to the lights. The place is full of tourist junk shops, electronics places selling gray market goods, and big name retail establishments like the Virgin Megastore and the Hard Rock Cafe. They tell me Disney even has a place there, although I didn't see it. The place is full — and I do mean full — of advertisements. Not the kind of place to come if you suffer from seizures brought on by flashing lights.
The above photo looks downtown. This one looks uptown. I'm standing at the divider between 7th Avenue and Broadway, between 44th and 45th Streets. I snapped quite a few shots while I was standing here. I like this one the best. The exposure isn't very good, but that's mostly because the light sucked on such a cloudy afternoon.
And yes, this is the wide angle lens again.
More to Come
That's all for now. I'll share the rest of the interesting shots another day. I've got a few night shots to show off and a bit of New Jersey wildlife. So do check in again.
And if you want to read more words about my trip, do check out "Impressions of New York: An Assault on the Senses."