A former New Yorker sees the City through a tourist's eyes.
I spent the first 36 years of my life in the New York City metro area, living in New Jersey, Long Island, and Queens, NY itself. I even worked in downtown Manhattan, near the financial district, for five years. I grew to know New York, to understand it and to make myself part of its rhythm. It made me strong and helped turn me into the zero-tolerance for bullshit person that I am today.
I left the New York area in the late 1990s in search of a more laid-back lifestyle, one where I could keep more of the money I earned, instead of spending it on property taxes and car insurance. I wanted warm winters and friendly people. I wanted space between my home and the next, privacy, quiet. I wound up in a small town in Arizona where, until recently, I've been very happy.
But Arizona is completely different from New York — like black is different from white or day is different from night. I didn't realize just how different the two were until this week, when I returned as a tourist, and spent two days in midtown Manhattan. For the first time ever, I was able to see New York through the eyes of someone who didn't know it quite so well — through the eyes of a tourist.
The Sound of New York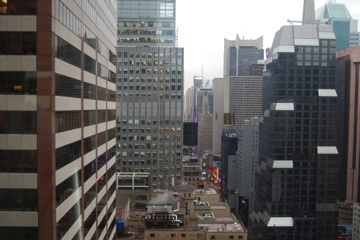 The first thing I noticed as we settled down for the night in our hotel room was the sound of the city. New York, you see, has a background noise, like a soundtrack. At its very base is a low rumble, like a low frequency hum. It's the conglomeration of the movement of cars on city streets and the hum of climate control systems on rooftops and restaurant exhaust fans at street level. It includes subways rumbling under the streets and bus and truck engines and planes and the odd helicopter. Sometimes it includes the sound of the wind whistling down streets and around buildings. During the day, it includes voices: people in conversation as they walk the streets, whether it's with a physical companion or the virtual companion on a cell phone.
The sound is punctuated, day and night, by other, louder sounds. Listen and you'll hear them and often be able to identify them. There is, of course, the orchestra of car and truck horns. (It's impossible for a New Yorker to drive for more than 15 minutes without using his car horn at least once and taxi drivers must use their horns at least three times per fare.) A bus engine revs, a heavy sheet of metal drops, a jackhammer breaks up a sidewalk. A truck backs up with a stead beep, beep, beep. A police car, ambulance, or fire truck — or sometimes all three together — speed to their destination, sirens wailing. A policeman blows his whistle, someone shouts. This time of year, Christmas music blares from speakers outside the windows of Saks, Lord & Taylor, and Macy's.
To be fair, the sound does seem to calm a little at night, but the underlying rumble of noise is always there. The sound is the pulse of the City. If it were to stop, surely the City would be dead.
The sound is clearly audible to anyone who cares to listen — as long as that person has the experience of true silence to compare it to. I know true silence — the utter soundlessness of a still night atop a high desert mesa, a silence so complete you can hear your heart beat. That's why the sound of the city is the first thing I noticed when we settled down for our first night here. Even 37 stories above the streets, closed in behind the thick glass of the hotel's windows, we could still hear that sound. Open the window a crack and it fills the room.
The Lights & Sights of New York
The next thing I noticed was the brightness. True, our hotel is less than ten blocks from Times Square, but the brightness still surprised me. SImply stated: it doesn't get dark here.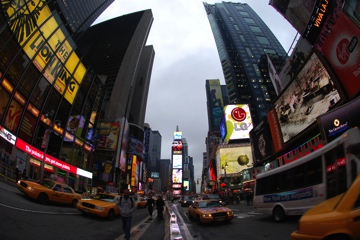 The light comes from the lights in building windows — office lights that are apparently never extinguished. It comes from the hundreds of television screens, many of which are larger than my two-story house, that display a never ending barrage of advertisements at anyone who glances at them. It comes from neon signs at street level or high atop skyscrapers: Ernst & Young, Kodak, Reuters, UBS, GE — these are just the few I see with a quick look out my window. The light comes from search lights that dance off buildings and pierce the sky, drawing attention to some new nightclub or the Christmas decorations on a posh shop. It comes from the Christmas decorations themselves: snowflakes twenty or thirty feet across, strings of lights wound around windows and trees and buildings, flashing lights forming wreaths and reindeer and Christmas trees. The scene pulsates with colored lights.
There may be streetlights — I don't know; I didn't notice them. They're not needed here.
Dawn is so gradual here that it's a non-event. The gray sky of night gets brighter and brighter until it becomes the gray sky of day. Only the clock can confirm that it's daytime. But that's just because it's been cloudy since we arrived. I remember blue skies in New York and the shafts of sunlight between the buildings. Sadly, I think we'll miss that sight on this visit.
And what does all this light reveal? Hundreds of buildings fifty or more stories tall with narrow, canyon-like streets in a grid pattern between them. Brick buildings a hundred years old standing proud beside steel and glass towers. Bright yellow taxicabs speeding down the avenues (with car horns blaring, of course), followed by lumbering, ad-wrapped buses. Thousands of pedestrians walking down sidewalks, gathering at street corners, ignoring traffic signals to cross when the time is right. People from every race and walk of life: white, black, asian, rich, poor.
At street level are shops showing off their inventories in bright, creative displays. In the tourist-trafficked areas, the merchandise spills out into the street with brightly colored signs and shop employees calling out bargains to lure the tourists in.
Around every corner is another surprise: a landmark building, a skating rink, a park, a farmer's market, a holiday crafts market. The Public Library offers an exhibit of Jack Kerouac's notebooks and his famous scroll, along with permanent displays of artworks and a real Guttenburg Bible (one of fewer than 200 made). There's a fresh food market between corridors deep inside Grand Central Terminal. On Vanderbilt, there's a public display of proposed designs for land development over the west side's train yard — at least these developers understand the importance of open space park land. Step inside the lobby or study the facades of buildings on Sixth Avenue to see a WPA mural or art deco entrance or mosaic history. It's impossible to be bored in a city like this.
At night the horse-drawn carriages come out to pick up tourists at Rockefeller Center and whisk them away to Central Park or Times Square or some other destination. The horses blend into traffic, stopping behind taxis at traffic lights, clomping along at their own pace while the cars and buses and trucks whirl around them. Stopped at a traffic light in front of Saint Patrick's Cathedral, a horse urinates on the city street. The carriage driver looks at the police officer standing nearby and says, "He's overheating." Everyone laughs.
The Smell of New York
New York can keep any sensitive nose awake and alive. From the sickly smell of steam rising from the street to the sweet smell of carmel roasted nuts in a vendor's cart, it's all there, good and bad. You can smell a Chinese restaurant or pizza parlor long before you reach it — if the breeze is blowing just right.
Walk down an avenue and the smells parade past your nose: flowers in a park, perfume from a shop front, food from a restaurant or vendor car. Things can be less pleasant on side streets, depending on whether it's garbage day, but with cold weather, pedestrians are usually spared the worst of the smells. But come summer time, pray the sanitation workers don't strike.
The Feel of New York
The feel of New York depends mostly on the season and weather. This visit is overcast and damp, with some light rain. It's not windy or cold enough to be really cold — which is good, because I no longer own a winter coat. Instead, it's what I'd consider typical late autumn.
But come in August during a heat wave and be prepared for the "Three H's": hazy, hot, and humid. I'll take 100°F in Phoenix in June over an 80°/80% humidity day in New York. Or try January, when the temperatures dip below freezing and the wind is howling down the streets or avenues. As you walk leaned into the wind, you feel as if your nose is going to freeze off before you reach your destination.
The air, of course, is filled with a fine dirt that coats you, your clothes, your skin, your car, and anything else exposed to it. Wash your face after a day walking on the streets and you'll see the grime on your washcloth. Its especially bad when you ride the subway. It isn't a gritty dust like you'll find in the desert. It's real dirt: a mixture of exhaust residue and pollution and plain, old-fashioned filth.
The Taste of New York
I've saved the best for last. I told friends I planned to eat my way through New York. So far, we are.
Every kind of food is available here, probably within walking distance of our hotel. On Monday night, we had Spanish food at a tapas bar on 53rd Street between 2nd and 3rd Avenues. Yesterday at lunch, we had Italian food at a restaurant overlooking the main concourse at Grand Central Terminal. Last night, we had Cuban food at a place on 52nd Street between Broadway and 8th Avenue. Today, for lunch, its dim sum in Chinatown followed up with Italian pastries from Little Italy. (I couldn't resist buying a real New York black and white cookie at Grand Central yesterday; it was heaven.) Tonight, probably Rodizio at a place near my brother's home in New Jersey.
We haven't been picky about where we eat. The restaurants are all over the place. You can't walk two blocks without finding some kind of interesting ethnic food. One glance in the window, to see how many people are inside, is enough to tell us whether it's good. Last night's Cuban restaurant, Victor's Cafe, has been in business in the Theater District since 1963. A bad restaurant wouldn't last that long in New York.
Or, as I pointed out to my husband, even if it's bad, it has to be better than what we can get at home.
And sure, there's the usual collection of chain restaurants: Applebees, Olive Garden, Hard Rock Cafe, McDonalds. But they're all in the tourist areas — Times Square is full of them — and crowded with the same midwesterners who fill the same places in Arizona. Go figure.
What I've Learned
I've learned that I still have a love-hate relationship with New York. That it's a nice place to visit, but I know I could never live there again.
I've learned that I could easily make myself go broke just by eating in New York. I'd also gain 10 pounds a week until I exploded. So it's a good thing I don't live here.
I've also learned that I'd like to come visit New York as a tourist more often. I may eat a lot here, but I also walk a lot. There's just so much to see and do.
And that has to be good for something.