To make a holiday trip back east more palatable, my husband "bribes" me with two nights in Manhattan.
A few weeks ago, we started making plans for the holidays. I was given a choice: go back to New York to visit family for Thanksgiving or Christmas?
I chose Thanksgiving. My brother, who was trained as a chef, makes a great Thanksgiving dinner. A few years ago, I had a bunch of cheeses shipped to his house and we snacked on them with champagne while the turkey cooked. (Or while we waited for him to realize that he'd forgotten to turn on the oven and then waited for the turkey to cook.) It was a fun time with a small group of family members: my brother, his wife, his sister-in-law, my sister, Mike, and me. The next day, we went into Queens, in New York, to have dinner with Mike's family.
Why Not Christmas
Christmas in New York is a crazy time. Traffic is maddening and the crowds are outrageous. And, to make matters even less pleasant, it's usually cold and gray. So anytime you're not snug in someone's home or in a well-heated car, you're shivering. Well, at least I am. (One of the top five reasons I left New York was the weather.)

I do need to say that there's something magic about midtown Manhattan at Christmas time. The tree and skating rink at Rockefeller Center, the window displays on Fifth Avenue, the smell of roasting pretzels and chestnuts, the steam rising from the manhole covers, the speeding cabs and blasting car horns on the avenues.
If I had unlimited financial resources, one of my homes would be in midtown Manhattan and I'd probably spend the weeks leading up to Christmas there. But that's the only way I'd live in New York — if I had a ton of money and could elevate myself above those crowds and car horns and steam. Living down in it all just isn't for me.
About Queens (the place, not the people)
Anyway, this year I chose Thanksgiving, fully expecting dinner at my brother's New Jersey home again. Mike would invite his family to join us. That was the plan.
Except Mike's family didn't want to drive to New Jersey on Thanksgiving day. Instead, they wanted us to drive to Queens. I told Mike my brother wouldn't want to do that. He said he'd ask. And then he did a sly thing. He called my brother's wife and asked her. She, of course, said yes and managed to convince the rest of the party to come along. So we were going to Queens for Thanksgiving.
I don't like Queens. And I certainly don't mean to offend anyone who lives there. It just isn't for me. I don't see anything positive about it. I lived there for two years — in Bayside, in case you're wondering — and did not enjoy that time at all. Living in Queens is like living in a buffer zone. Not quite real "city" like Manhattan but not quite "suburbs" like Long Island or New Jersey. It has all the unpleasantness of a big city with few of its benefits. And although there are houses like the ones you'd find in the suburbs, there's little suburban atmosphere. In the two years we lived there, we had a car stolen and two cars and a scooter vandalized. (And Bayside was supposed to be a nice part of Queens.) Even if you find a pleasant pocket of homes on tree-lined streets, its surrounded by the same, miserable pseudo-city filth, traffic, crime, and graffiti.
(If you live in Queens and are outraged by my statements, accept my apologies. I really don't mean to offend you — I'm just stating, as usual, my personal opinion. Use the Comments link or form to state your case on why I'm wrong. Just don't expect to change my mind. I've been to a lot of places in 49 of this country's 50 states — I've never been to Minnesota — and Queens is pretty darn close to the bottom of my list of places I might want to live. Like I said: it just isn't for me.)
Yet every time we go back east, we go to Queens. That's where Mike's mom and sister and uncle still live. It's tolerable on a regular day, but I knew it would be crazy with traffic and crowds on a holiday like Thanksgiving. (Did I mention the traffic? Well, it's certainly worth mentioning again.) I didn't want to go, but Mike had conned the rest of my family into it so I had no choice.
But I didn't have to be happy about it.
The Bribe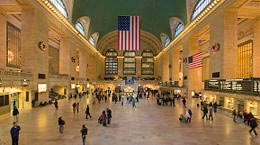 Hence, the bribe. Mike booked two nights in the Sheraton on 52st and 7th in Manhattan. Walking distance from Times Square, which I understand has been substantially cleaned up since I worked in the area 20+ years ago. (Did I ever mention the bum who touched my butt as I was walking up 7th Avenue at 41st Street at lunchtime one day? It was the first time I ever struck a stranger. Hmmm. It might be the only time.) Also within walking distance of Rockefeller Center, Grand Central (shown here), and numerous other interesting places.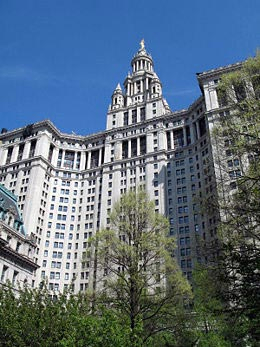 And with two full days to play tourist, I'd have a great opportunity to walk my old stomping grounds down in the financial district, City Hall area (including the Municipal Building (shown here), where I used to work), and Chinatown.
And eat. New York has the best restaurants. I'm especially looking forward to dim sum in Chinatown and a box of Ferraro's Italian pastries from Little Italy. (They make the best rainbow layer cookies.)
I'm also looking forward to riding the subway (oddly enough) and to taking photos with my new lenses. I have some great ideas for using that fisheye lens on a subway platform. I hope to be able to show off the results here.
So I'm Happy
So I've been bribed and I'm happy about it. It's the first time in years that I've really looked forward to going back east.
And as I told Mike this morning at breakfast, he's going to have to get us a hotel room in New York for at least two nights every time we go back there.