Observations from a day in the Phoenix area.
Yesterday, I spent much of the day in the Phoenix area and south of there. I'd like to note a few of my experiences.
Casa Grande
One of my errands yesterday was to take my 22-foot travel trailer, which I use primarily for "barnstorming gigs," to the Casa Grande Airport. The COPPERSTATE Regional EAA Fly-In begins today and I'm one of two helicopter pilots who got a contract to offer helicopter rides.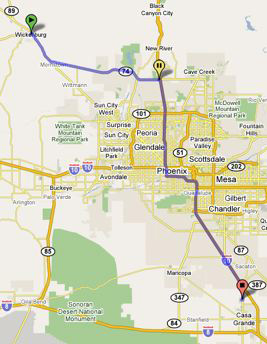 Casa Grande 109 miles south of Wickenburg, just off I-10 (see map). I was driving my husband Mike's truck, a 3/4 ton Chevy SIlverado diesel pickup, towing the trailer. The truck, which normally has a lot of pep, drove as if I were hauling my old 13,000 pound horse trailer with living quarters rather than a 5,000-pound steel and cardboard — well, that's what it seems like — RV. I was lucky to get it up to the speed limit on the highway. With high winds south of Phoenix, I wasn't even able to get it up to the 75 mph limit. Later, I asked Mike about it. He says he thinks its wind resistance. The trailer has a flat front; the horse trailer was curved. The 218-mile round trip used up 3/4 tank of fuel.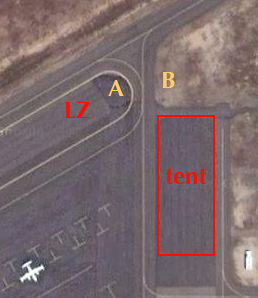 It wasn't really clear until yesterday, when I arrived at the Casa Grand Airport, where I was supposed to set up. I found the spot described to me — a D-shaped bit of gravel (A on illustration) adjacent to the landing zone (LZ on illustration) and taxiway– and called the other pilot, Michael, to confirm with him. That was the spot.
I'd just hung up the phone when three guys rolled up on a golf cart. One of them was in charge of parking. He didn't want me to park where Michael told me to.
I was kind of expecting this. Michael wanted me to park between the helicopter and a taxiway intersection. It would have been convenient for me and for passengers, but it was very close to helicopter parking and the taxiway. The parking guy was worried about the trailer blocking the view of pilots trying to taxi out. So he directed me to another spot nearby on gravel (B on illustration). It wasn't as convenient a spot, but I had to agree that it was likely to be safer. And I didn't think it was any less visible. So I called Michael again to reconfirm. He told me that was plan B and if I didn't mind, it was fine with him.
Getting the trailer into the spot was a bit of a task. The parking guy wanted it lined up with the huge tent that had been erected there. I needed the door facing the landing zone. That means I had to drive the truck right toward the tent, get the trailer as close to the tent as possible, and still get the truck out. On my first try, I couldn't get the trailer lined up with the tent, although the position wasn't bad.
So I used my "helpless female routine." Women who don't know this routine are really missing out on something that can help them get assistance when they need it.
"I don't drive this thing much," I told the three men. "My husband usually does." (That was a fib.) "If one of you are good at moving trailers around, be my guest."
After a short debate, one of the men stepped forward. He got behind the wheel, did another circle in the gravelly area, and parked it almost where I'd had it, but with the truck pointing the other way. His companions directed him so he wouldn't run over the taxiway light there and I kept him away from one of the tent stakes. I know it wasn't quite as close to the tent as the parking guy wanted it, but it was lined up. They were all happy.
At this point, I'd identified myself as a helpless female who seldom dealt with trailers. So the three men came around the back of the truck to help me disconnect the trailer. This was very nice because the trailer has these sway bars attached to it that are heavy and difficult for me to disconnect. They disconnected them and I stowed them in the back of the truck. Then they guided me in the truck away from the trailer so I wouldn't run over that darn taxiway light.
Then they got into the golf cart and rolled away.
But not before one of them asked me where I was coming in from.
"Wickenburg," I said.
"Wickenburg!" he replied. "I didn't think anyone lived there."
"They don't," I told him.
I spent the next half hour organizing the trailer a bit and putting up a pair of rides signs so the folks setting up would know what the trailer was for. I also lugged the 4 6-1/2 gallon water containers I'd put in the back of the truck out of the truck. (In the old days, when I was younger and thinner and better looking, the helpless female routine would have had one of the guys volunteering to do this for me. Such are the pitfalls of middle age.) Then I locked up the trailer and started the long drive home.
Wild Horse Pass Resort & Spa
On the way home, I had a stop to make at the Sheraton Wild Horse Pass Resort & Spa. This is a resort that's part of a casino complex on the north end of the Gila River Indian Reservation.
The place is pretty new. I know because I learned to fly in Chandler, which isn't far from there, and once in a while, my instructor and I would take the helicopter out to the Gila River to find the wild horses. There are an estimated 1,500 of them out there, although we never saw more than 100 or so at a time. The resort didn't exist back then.
I was impressed by the place as I drove up to it. The entrance road winds through a desert golf course that has a flowing stream running through it. But this isn't a 100-yard bit of water pumped through the desert. The stream goes on for over a mile, with small rapids, ponds, ducks, and riparian vegetation. It's the kind of stream I'd want to hang out beside in the shade, on a summer day. (Not an Arizona summer day, of course. You'd bake.) The stream was full of water and at least 8 feet wide in most spots. Although it had to be man made — there are no natural streams like that in the area — even the Gila River is almost dry — it looked completely natural. Very nice.
I pulled up in front of the place and was flagged down by a valet parking guy. I asked for directions, then parked the truck myself down in a parking lot. I gathered the things I needed for my meeting and walked back up to the main building.
Inside, I was impressed again. The main building's entrance is on the top of a hill. When you walk in, you're faced with a huge wall of windows that look out onto the golf course and mountains. It was a two-story walk down stairs at the side of a rock face to get to the lower level lounge. The view was magnificent.
Now I've seen this kind of lobby in several hotels in the Phoenix area. The Hyatt at Gainey Ranch has one and so does the Westin Kierland. But neither are as dramatic and beautiful as this. I was really impressed.
And those of you who read my blog frequently know how seldom I'm really impressed.
I think the place would make a great getaway for Mike and me. Maybe early next season we'll try a weekend there.
iPhone Spotting
I had my first iPhone "in the wild" spotting yesterday. (Keep in mind that most of Wickenburg's population is somewhat technologically challenged, so I don't get a chance to see much in the way of gadgets here in town.) It was in the parking lot for A.J.'s Fine Food (my favorite supermarket) on 67th Avenue at the Loop 101.
The guy was holding the phone in one hand and a pair of white earbuds hung from his ears. (For the record, I purposely bought black earphones for my iPod just so I wouldn't look like an Apple fangirl.) He was talking loudly to someone about how he wasn't interested in getting into a relationship. A young girl maybe 4 or 5 years old and holding a baby doll, was walking along with him, trying to keep up, trying to talk to him. He was completely ignoring her. I think that if someone had come up behind them and taken the kid away, he probably wouldn't have noticed — or cared.
The guy struck me as a complete jerk.
I have more to say about iPhones, but I'll save that for another post.