Back in Monument Valley.
Last week, I spent 3 nights in the "hangar room" at Goulding's Lodge in Monument Valley. The room had one window that looked out at the runway. While that's a nice thing to watch if you happen to be a pilot and like to see airplanes taking off past your window, there are better things to look at in Monument Valley.
My room for tonight is a standard room here at Goulding's Lodge. It's on the hillside, high above the runway, and features a huge sliding glass door and private patio. Here's what I'm looking at as I type this at the table and chair on my patio: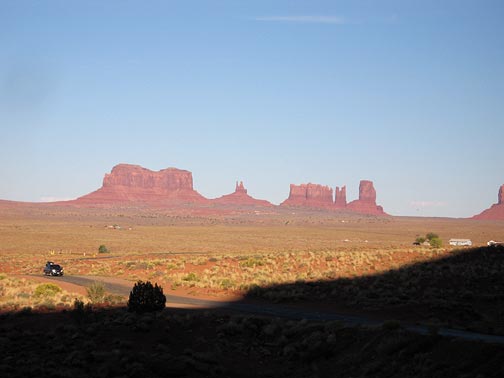 Not too shabby, huh?
I'm here until tomorrow at 11 AM, which is checkout time. Sometime between noon and 1 PM, my passengers and I make the long flight to Flagstaff, via the Grand Falls of the Little Colorado River and Meteor Crater.