Night flight on the Rez, rain, rest.
I slept badly again and was up at 4 AM. It was very dark outside. I needed to make the 30-mile flight to Cal Black for fuel and be on the ramp, ready to fly before sunrise.
My Thoughts on Night Flying
I'm not afraid to fly at night. I do a "moonlight dinner tour" in the Phoenix area that flies all around the area before I return to Wickenburg. It doesn't matter whether there's a moon when you're flying over the urban sprawl that is America's fifth or sixth largest city. It's so darn bright that I get reflections from the ground in the bubble.
And I fly around the Wickenburg area at night when there's a moon. I did it twice in September. No big deal.
But the Navajo Reservation isn't anything like Phoenix or Wickenburg. It's thousands of square miles of mostly empty land with mountains and ridges and buttes and canyons. And it gets very dark at night.
That said, I knew what I needed to do to be on the ramp with fuel in time for my dawn flight. I had to wait until I could see the horizon in the direction I was going to fly — northwest — and then go for it. By the time I got to Cal Black, it should be light enough to see the runway. Ten to fifteen minutes on the ground while Maury fueled me would be more time for the sky to brighten. The return flight was toward the dawn sky, so I shouldn't have any problem coming back.
And that's pretty much how it all came off. Except that when I took off at about 6 AM, I could barely see that 6000+ foot ridge I had to cross on the northwest side of the San Juan River. I started climbing immediately. I could see a large butte to my left and had no trouble avoiding it. Below me, each Navajo home I flew near had a big bright light that illuminated the yard. I could see trailers and hogans and trucks. The homes were dark. The occupants were probably still asleep.
When I passed the last Navajo home, still 20 miles from my destination, I suddenly felt very lonely. There were no lights in front of me. Just that dark ridge with a hint of taller mountains way out in the distance. To my left, however, I was very surprised to see a bunch of lights near the base of Navajo Mountain. About 30 miles away.
I continued to climb. I couldn't remember how tall the ridge was, but I wanted to clear it with plenty of room to spare. 8,000 feet MSL should be enough. I climbed.
And then I saw the lights of the Bullfrog and Halls Crossing marinas on Lake Powell. I wasn't flying into emptiness. There was something up ahead.
But nothing warmed my heart as much as the rotating beacon at Cal Black airport, which I saw when I was still 15 miles out.
That's when I crossed the ridge. It was actually a series of ridges with deep canyons between them. Very dramatic during the daylight hours. A cool place to take a hike, I bet — if you could get to it from the ground. I probably cleared the ridges by 1,000 feet, but they looked a lot closer in the gray, predawn light. And I knew that if my engine quit right then and there, I'd be dead. There simply wasn't any way I'd find a decent emergency LZ there in the dark.
Fortunately, my engine kept running and I kept flying. After the last ridge, I cut power and began the long descent to the airport over the sloping terrain.
I'd been making radio calls since I was 20 miles out, calling in every 5 miles. Maury hadn't replied. I hoped he had the volume turned up loud enough to hear me and wake up. It would be a bummer if walking to the terminal building to wake him caused me to be late.
I was still 5 miles out when I activated the pilot controlled lighting with five clicks of the mike button. The airport's runway lights appeared in the gloom, bright white and blue lights that outlined the runway and taxiway perfectly. Now all I had to do was figure out where the fuel pump was along that line.
A light came on over the pump as I neared. And there was Maury, standing by his golf cart. I pulled in close to the pump and shut down.
While he fueled, we talked about the joy of living in remote places. I told him that if he ever wanted to go on vacation, I'd watch the place for him. He told me he'd rather read about vacation places in books and magazines. Less of a hassle. He told me that when he was a kid, he always wanted to be a lighthouse keeper. But now they're all automated. I pointed to the rotating beacon and told him that he was a lighthouse keeper.
When Maury was finished fueling, I climbed back into the helicopter and started back up. He flicked off the light over the pump just as I was lifting off.
As I expected, the flight back was easy. Clouds in the east showed color briefly as the sun, still beneath the horizon, illuminated them from below. I sped across the desert, climbing the slope to the ridges and crossing over them. In the distance, I could see the lights at Goulding's. But I could also see the texture of the land I flew over. It was almost daytime.
I set down at the pad at Gouldings at 6 AM. Mike and Oleg were waiting.
Last Flight in Monument Valley
We took off to Monument Valley sometime around sunrise. We weren't sure if the sun was up or not. The clouds in the east were thicker than I thought and hid the sun from view.
Mike was bummed. The light was too soft. But it wouldn't be long before the sun peeked over the top of the cloud. He wanted to be in position. So we headed out to the formation commonly known as the Totem Pole, watching the light on the buttes as we went.
What followed was more than an hour of precision flying, following the instructions issued by Mike and Oleg. I flew all over Monument Valley at all elevations, back and forth around the buttes. The scenery around me was beautiful, the light eventually very good. We flew briefly to Agathla Peak, which is halfway between Kayenta and Monument Valley on Route 163. Then back to Monument Valley for more shots.
Another Fuel Run
Although we had enough fuel for a trip to Goosenecks, Mike wanted to get there later in the morning, so we went for fuel first. And as we made our way toward Cal Black, I realized that the sky was quite thick with clouds.
Mike noticed, too. "Is it raining?" he asked.
"Looks like it to me," I said.
"We will get wet," he said.
"Maybe a little," I agreed.
He suggested that we go back to Goulding's and wait until the rain stopped. I didn't like that idea. First, it wasn't raining at Goulding's (yet). Second, we couldn't see the area where it was raining from Goulding's. Third, the idea was to fly early in the morning when the light was good. And fourth, I really wanted to get the flight finished so I could get some rest.
Rather than explain all this, I told him that at 90 to 100 knots, which was the speed I was flying, the water tended to skim around the helicopter. This is what I'd always observed in the past. Heck, I'd flown through the edge of a thunderstorm with pouring rain with all four doors off and had barely gotten a drop on me!
But when we hit the rain, just after crossing the ridge, I realized that Mike and Oleg were indeed getting wet. They moved their cameras away from the gaping doorways. I was nice and dry with my door on.
[I should explain something here for readers who are not desert dwellers. In normal climates, getting wet is a big deal. It often means that you'll stay wet until you do something to get dry. But in the desert, just leaving a wet area is enough to get you dry. The air is so dry that anything that is wet dries within minutes as soon as you take it away from the source of wetness. That's one of the reasons I don't mind leaving the windows off in my Jeep, even in the rain. The seats and carpet will dry when the rain stops.]
When we landed at Cal Black, Maury was waiting at the pump. It was raining there, too, but had evidently just started. When I told Mike that no, he could not smoke in my helicopter, he and Oleg stepped out into the rain. I chatted with Maury, unwilling to stay dry while he was getting wet for my benefit. When he was finished, I waved the others over. Maury hurried back to shelter in his golf cart. I dried the two passenger seats off with rags I keep under my seat and loaded my passengers in.
"Are we going to leave now?" Mike asked.
"Sure," I replied. "Why not?"
"Well, it's raining."
This is something I don't understand. So many people think that you can't fly in the rain. Like the helicopter will melt or something. But we'd flown in the rain to get to the airport. Why couldn't we fly in the rain to leave?
I pointed in the direction of Goosenecks, where the sky was bright and the sun was probably shining. "It's not raining there," I said.
I started up and, a few minutes later, we were heading toward sunshine.
Goosenecks
It was partly cloudy at Goosenecks. We spent a lot of time hovering not far from the parking area — but about 1,500 feet above it. We got a few shots of a rock formation near there, then went back for more Goosenecks shots. The air was relatively smooth, but Oleg did not ask for one of his 360° panoramics. (I think it's because Mike doesn't like the flying I have to do for them — which makes two of us.)
I took this picture the next day,when I was alone and flying to Farmington. Not a great picture — you try taking a photo with your left hand while flying a helicopter! — but it gives you the idea of the area. You can clearly see the road and parking area for the viewpoint. Please ignore the glare; I took the shot through the plexiglas bubble. And oh yes, that is Monument Valley in the distance.
Then it was done. Mike told me to fly back to Goulding's.
R and R?
Back at Goulding's, we put the doors back on the helicopter. I stood on the bumper of Mike's rental SUV and tied down the blades. Then they departed to rejoin their group. Their plan was to go camping with a guide atop Hunt's Mesa, which overlooks all of Monument Valley. With clouds moving in, I had concerns about their timing.
I was hungry, but it was too late for breakfast. I used the microwave in the pilot lounge to heat up a Banquet pot pie I'd bought the evening before at the grocery store. I hoped that would satisfy me for a while.
Then I got to work on my Leopard book. Yes, I'd brought that work with me. There were two laptops in my bag — my trusty 12″ PowerBook and my 15″ MacBook Pro. That's why my bag was so darn heavy. (Laptops are light and portable, but not when you're carrying two of them.) I still needed to write the Introduction and Acknowledgments.
To write the Introduction, I had to get the original file off my iDisk. Since my PowerBook wasn't set up for iDisk syncing (because I didn't have enough free hard disk space to accommodate the new 10GB iDisk size), I needed an Internet connection. Although my phone worked at my room, the Internet capabilities did not. That means I needed to get up to the lodge.
I called for the shuttle, unwilling to lug the two laptops and associated power cords up the hill in a plastic shopping bag. I waited. The shuttle didn't come, but housekeeping did. One of the housekeepers ran me up to the lodge.
I parked myself on one of the leather sofas in the lobby and got online. It wasn't long before I realized that I'd left behind the DVD with all the book files on it. I needed the files to reference the existing figures that would be used in the Introduction. That meant another round trip to my room. But not just then. I did what I could do, checked and replied to e-mail, deleted some spam comments on my blog, and closed up both computers.
Then I went for lunch in the restaurant: Navajo fry bread with a bowl of pork chile stew. A bit on the spicy side for me, but excellent.
It had begun raining while I was in the lobby doing my work. It was still raining an hour later. The tourists who'd eaten in the restaurant were clustered together under cover on the stairs, waiting for their bus. No one wanted to get wet. Obviously not desert dwellers. I walked back down to the lobby in the pouring rain and asked for a lift back to the hangar. A while later, I was warm and dry in my room.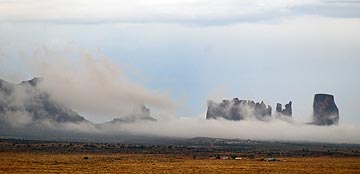 Visibility in Monument Valley had dropped to just a few miles. I could no longer see the ridge to the northwest that I'd crossed four times that day and the buttes in the valley were shrouded by clouds. It rained on and off. Every once in a while, I'd pop outside to see what things looked like in the valley. A few times, I took photos.
I also relaxed. I had about 900 songs on the MacBook Pro that I'd loaded into iTunes for my Front Row chapter of the Leopard book and I set that computer up as a little stereo. (The 12″ PowerBook's speakers suck.) I wrote up the first few days of the trip.
It cleared a little and the two Huskies that had been on the ramp overnight returned from wherever they'd been all day. A while later, a Bell 206L landed on the helipad beside mine.
I was standing in the doorway, looking out into the day while chatting on the phone with my brother when he landed. The pilot shut down and, when the blades stopped spinning, walked over. Turned out, he was from Arizona Heliservices, which is based in Mesa. He'd been hired as a film ship for a movie being filmed in the valley. As we talked, a Budget rental truck pulled up next to his helicopter and two guys began rigging it with a special camera mount. I told him about the pilot lounge next door and let him go about his business.
Later, I tried again to get a good panoramic shot of the area. This is what I wound up with. You can click it to see a larger view; be prepared to scroll right and left.

About an hour before sunset, the sun broke through some of the clouds, illuminating one of the buttes. I took out my "good camera" — my Nikon D80 is nothing compared to the super high tech professional equipment carried by the photographers I'd been flying for the past few days — and took some photos. I could see the hint of a rainbow to the east, but not enough to photograph.
I thought about my Russian friends atop Hunts Mesa. I hoped they were warm and dry and getting a good show.
I worked on my blog entries into the night. It was very dark when I finally shut off the lights and went to sleep.