Rushing to Russians
Back in March, one of my regular clients booked Flying M Air for a 6-day flying gig in the Four Corners area. The job, which ran from September 28 through October 3, was to fly around a group of Russian photographers as part of a photo excursion. I'd fly them over Lake Powell from Page, AZ, then relocate to Monument Valley for several shoots there, then relocate to Shiprock, NM for several shoots there. This would be my biggest gig to date, with 20 or more billable hours. Best of all, I'd get to fly in some of the most beautiful places the southwest has to offer.
This is the account of that gig, one day at a time.
No Calm Before the Storm
I blew out of my house on Friday at 11:15 AM, 15 minutes later than I'd hoped to leave. My computer was still on, still uploading files of the book I'd just finished to Peachpit's FTP server.
At the airport, I pulled the helicopter out, topped off both tanks with fuel, and put my tow equipment and Jeep into my hangar. I stopped by Ed's hangar to let him know I was on my way out. Ed's my Wickenburg mechanic. He had done an oil change in the helicopter two days before and he's very conscientious. He likes to run up all aircraft and check for leaks after an oil change. But although I think he learned at the Robinson factory how to run up a helicopter's engine (which does require engaging the clutch and turning the blades), he's never been checked out pulling my helicopter out of the hangar, getting it off its tow equipment, etc. It's a lot easier for him to just stand by while I do the first run-up. So he followed me out to the fuel island and hung around while I started the engine. He peeked under the hood at the filter, satisfied himself that nothing was leaking, and went about his business.
I took off for Page.
I had a kick-butt tailwind and made it to Page in record time. I listened to podcasts on the way up: Slate (I really enjoy the "Gabfest") and Writing Tools (Roy Peter Clark).
At Page, the wind was blowing pretty hard from the south. I had a bit of a struggle getting the helicopter set down straight on the pad — it faces west — but managed.
Getting Down to Business
My first flight for Mike (short for Mikahil) was supposed to be at 4 PM, but the sky was partly cloudy and the photographers in his group wanted an earlier start before the light faded. There were just two women in the first group — nice and light — and we took off a little after 3 PM with all four doors off.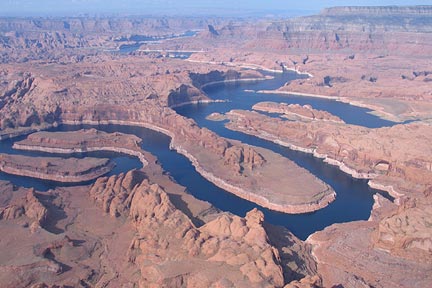 We started with a trip around Horseshoe Bend, which is south of the Glen Canyon Dam. It's a neat spot where the river bends in the shape of a horseshoe. The canyon is deep there and the river is calm, green, and cold, having come from depths of Lake Powell. Lots of people like to see Horseshoe Bend, but I think the Goosenecks of the San Juan near Mexican Hat Utah are far more impressive. And the twists and turns in Lake Powell where the San Juan meets the Colorado are simply magnificent — as this photo, which I've used over and over again on this site (with apologies to regular readers) attests.
Of course, all of these places are best seen from the air, which is why the photographers hire me to fly them around.
From Horseshoe, we went past the Wahweap Marina and uplake. All of this has become almost routine to me, which is a shame. But what wasn't routine was the turbulence I started hitting around Rock Creek. They were tough. I was flying at 5000 feet and, unfortunately, airplane tour traffic was flying at 5500 uplake and 6000 downlake, so climbing was not an option until we cleared them. So we got tossed around. I really hate flying in turbulence, especially at the end of a week where I had three consecutive 14-hour days in front of a computer. I was run down and didn't feel like dealing with it.
But I didn't have a choice, so I kept flying. The planes all turned around at Dangling Rope Marina, which should have sent me a message. But I plodded on and brought my passengers past Rainbow Bridge. That's where we hit the worst of the turbulence and I decided to avoid that spot on the next flight.
One of the reasons the air was so bad was because of Navajo Mountain. This is a big fat mountain rising five or six thousand feet out of the 4000+ foot terrain. (I'll save you the math: it's over 10,000 feet tall.) It's south of the area we were flying through and creates a funnel for wind from the south. Add a few buttes and you've got wind blowing all over the place.
Once we passed Navajo Mountain, things calmed down a bit. The air smoothed out and I was able to show my passengers a few neat spots, including Reflection Canyon (no reflections in all that rough water) and the aforementioned confluence of the San Juan River. But then it was time to go back — the same way we'd come — and we were kicked around like a cork in a martini shaker.
The next three passengers were waiting when I returned. I ordered fuel and took a moment to claim my rental car. Then I went out for more of the same. Except this time, when things started getting rough at Rock Creek, I decided that's as far as I'd go. So we spent their 1+ hour of flight time closer to home, going only as far as Gregory Butte. My passengers seemed happy enough. I couldn't ask them because none of them spoke English.
Finally: Rest — Sort Of
After dropping them off, I put the doors back on, ordered more fuel for the morning flight, claimed my luggage at the FBO and made my way to the Best Western, where Mike had reserved a room for me. It was quite comfortable, but would have been better if housekeeping hadn't used so much of that damn air freshener shit they like to spray around and if it had a balcony so I could step outside to breathe.
I went to Ken's for dinner. It's right behind the hotel. I ate at the bar and had a Grey Goose martini with my baby back ribs. Afterward, I walked to Safeway for bottled water and some snacks. It turned out to be twice as far as I thought, but I could use the exercise. The streets were full of tourists walking around. Page doesn't have a nice little downtown area like some towns do, so I guess they were all just walking to or from dinner or Safeway, like I was.
It was a weird, end of season evening in a tourist town.
[composed in a hangar/hotel room while on a flying gig with ecto]