Writing, flying, writing, flying, repeat, repeat, repeat.
I realize that I haven't been blogging lately. I have a good excuse. I'm unbelievably busy with work.
I have a drop-dead deadline for my Leopard book coming up very quickly now. So whenever I'm at home, I'm in my office with my fat butt planted in the chair in front of my computer, writing about Leopard. The book is coming along very well, but not without some minor problems. Still, if I keep at it, I'll get it done on time.
Trouble is, I'm not spending much time in my office. After a seriously crappy-to-the-point-of-wasted-time gig in Kingman last weekend, I had to fly up to Page to take some photographers around Lake Powell. For three days in a row.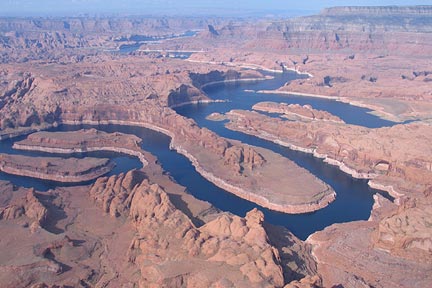 I love Lake Powell. I think it's one of the most beautiful places on earth. And if you think it looks great from the ground or water, you should see it from the air! But after a 4 hour flight on 4 hours of sleep today, I decided I'd had enough of the Lake. Fortunately, I'm going home tomorrow, after dropping off one of my clients in Phoenix.
I've been in the Marriott Courtyard here since Monday night. I've had five flights totaling over 10 hours of billable time, with about 3 hours more to come. Great for the Flying M Air bank account, which can always use a good cash inflow — especially after a slow summer in Wickenburg. But not great for the Leopard deadline.
So now I'm sitting here at the desk in my hotel room with two laptops in front of me — my MacBook Pro test mule running the latest Leopard beta and my trusty 12″ PowerBook G4 — revising text and making new screenshots for my Leopard book. I'll finish Chapter 7 today and, with luck, start Chapter 9. (No, I'm not doing them in order.)
Tomorrow, I'll check out of here at 7 AM and take my luggage — including my "portable office" — to the airport. By 8 AM, I hope to have my passenger on board for the flight to Phoenix. With cooperative weather (read that, "no headwinds"), I'll be at my desk again by 1 PM, laying out the chapters I wrote in Page. Friday, I'll be in my office all day.
Then, on Saturday, I pick up another photographer. He's from Australia and he's doing a coffee table book about Robinson helicopters. I'm one of his featured operators. I'll fly him around for a few days, taking time to work on the Leopard book in early morning hours, before he's awake. He leaves on Tuesday. Then I have two more days in my office before another helicopter gig at Lake Powell, Monument Valley, and Shiprock.
Anyone who thinks being a freelancer or owning a business is an easy living should walk in my shoes this month. It's times like these that I think back with a bit of longing for those cubicle days, when I spent more time shooting the bull with co-workers than working long hours to meet deadlines and client needs.
But by mid-October, things should be back to normal. Until then, bear with me. On the priority scale, blogging has slipped behind a few more important tasks.