We prepare for our third straight year a the Mohave County Fair.
I understand that some people who work at carnivals and fairs find the word "carnie" offensive. I certainly don't mean it that way. I mean it as a celebration of the lifestyle of a carnival worker — driving long distances, setting up and tearing down carnival attractions, working long days, sleeping in cramped or shared spaces, eating junkfood, not seeing home for weeks or months at an end — or perhaps not having a real home at all. These are people who live so "outside the box" that they're actually inside a different box. A box that no one who hasn't experienced it can't imagine.
I see these people each year at the Mohave County Fair in Kingman, AZ, when my husband and ground crew and I join them for a weekend.
That fair's coming up this weekend — in fact, I think it started yesterday. It's a good, old-fashioned county fair, with H4 events, local car dealers, and folks selling everything from hot tubs to tractors. Last year, there were even a few manufactured homes on display. But the part that gets the kids excited is on the north end of the fairgrounds, where the carnival folks have erected their rides. And if you got past all the rides to the north entrance to the fairgrounds, that's where you'll see a shiny red helicopter waiting to give 6 to 8 minute rides for $30 per person.
Our part at the fair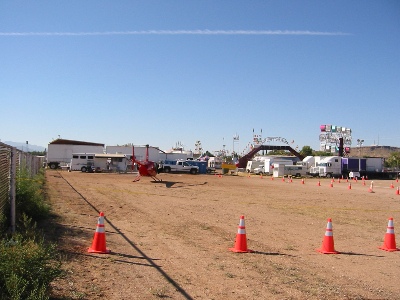 We set up our 22-foot travel trailer right on the other side of the fence from the tangle of tractor trailers, portable toilets, hoses, and generator lines of the carnie living space. We share a single hose spigot with many hoses branching off from it to keep the landing zone dust free for our arrivals and departures. (We fill our trailer's water tank in mid-afternoon, so when they all shower in the morning, we don't have to worry about not having any water pressure.) We block out a long strip for a landing zone and mark it with cones, rebar posts, and yellow tape. The helicopter sits a safe distance from the trailer and any parked cars while the sprinkler head waits on the ground under its bubble. Then, when I do a flight, Mike turns on the water and the area is dowsed until I return.
This year's ground crew include Wickenburg residents Darlene and Dave, who first worked with us last year at Old Congress Days (coming up again this year on October 6). They'll be driving up on Saturday. Mike can handle Friday's "crowd," which usually isn't much of a crowd at all, alone. We usually don't start up until 2 PM on Friday; last year we didn't fly at all that first day due to high winds.
More than just flying this year
This year, when I'm not flying, I'll be working on my Leopard book. Can you believe it? It's getting close to crunch time and I'm a bit behind with plenty of motivation to get it done on time. I have plenty of free time in the morning before the fair opens for the day — I usually wake at 5 AM and the fair opens at 9 AM or 10 AM.
Here's the plan: I'll have my little 12″ PowerBook G4 and my 15″ MacBook Pro test mule with me. I'll edit text on the PowerBook and create new screenshots on the MacBook Pro. Then, when I'm back in my office for a half day on Monday, I can spin out one or two fresh laid-out chapters. Then it's up to Page for two move gigs, where I hope do do the same during down time there.
I'll get this book done on time! Just watch me!
Come Fly With Me!
Coming to the Fair? If you're in Phoenix or Las Vegas, it makes a nice day trip and a great step back into a simpler time. It's easy to find — right off of I-40 just east of downtown Kingman. Laughlin isn't far away, if you're interested in visiting what I call "mini-Vegas." Also relatively closeby are Grand Canyon West (home of the Skywalk), Grand Canyon Caverns, and the tourist town of Oatman, where burros roam the streets begging for carrots.
If you come for a flight and tell me that you read this post, I can probably add a few minutes on to your flight time. My way of thanking you for stopping by.