An online tool helps a non-designer pick a color scheme for a new blog.
I am not color blind. I know I'm not. I see colors and I know when certain colors look good together. But I can't, for the life of me, come up with a color scheme on my own.
Color, of course, is a major part of any Web site's look and feel. So when I found a blog post months ago that listed a few online color tools, I bookmarked them for later use. On Saturday, one of them came in very handy as I decided on a color scheme for my blog's new look.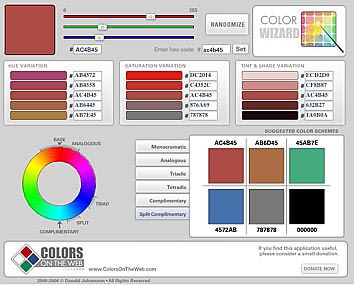 The Color Wizard is a Flash application by Donald Johansson. This excellent online tool helps you find colors that work well together.
From the Color Wizard page:
The color wizard lets you submit your own base color, and it automatically returns matching colors for the one you selected.

It returns a set of hue, saturation and tint/shade variations of your color, as well as suggests color schemets to you, based on your color's complementary color, split complementary colors, analogous colors and other variations. The color wizard also has a randomize function that lets you generate color schemes you might not have thought of on your own.
It's the randomizer that helped me. I just kept clicking the Randomize button until I found a few schemes I liked. When I had about eight of them, I went back and reviewed each one, eliminating the ones I liked less until I had one I liked a lot. I then picked the blue color from the theme and generated another scheme from that, so I could get the colors I planned to use for my links.
What was also handy for me was the print feature. Although it's not obvious on the application, if you right-click the Flash app, a Print option appears in the shortcut menu. I used that to print my two color schemes on my color printer. So not only can I visualize what the colors look like — or at least approximately what they look like; I don't have a great color printer — but I have a document that clearly lists all the hex codes for all the colors.
I'm so pleased with the results that I clicked the Donate link at the bottom of the Color Wizard and used my PayPal account to send the developer some lunch money. (As usual, I urge everyone who uses great free software like this to thank the developer with a donation or at least a visit to his advertiser's sites.)
Looking for a color scheme? The Color Wizard is a great place to start.