It's the salt.
Last night, Mike and I went out for dinner in Wickenburg. It's summer here and our choices are limited. More limited than we thought. We'd been planning to eat at House Berlin, the German restaurant. House Berlin makes an excellent walleye and is the only restaurant in town where you can get veal. But a hand-printed sign on the window said "Closed August for Vacation."
We left the car parked where it was and walked to my second choice that evening. I won't say which of Wickenburg's amazing dining choices it was because I need to be critical (again) and I know how sensitive my fellow Wickenburgers can be.
A Short History of the Best Margarita in Wickenburg
The restaurant we went to used to make the second best margarita in town. The first best was at the Santa Fe Cantina, which was also one of the town's top five restaurants. Santa Fe made the best ribs, too. And the best artichoke dip, which I was fortunate enough to get the recipe for.
But the Santa Fe sold to new owners — who, to their credit, still made those excellent margaritas.
But then they handed it off to their foster son — or at least that's what I heard — and he decided to change the menu. (Hey, that's an idea! Take a formula that works in a restaurant that has great following and change it!) He soon drove the place out of business.
So now we had to settle for second best, which, without a real best, becomes the best.
In My Mind: A Nice Cadillac Margarita
I like Cadillac margaritas. That's a margarita with a shot of Grand Mariner in it. A good Cadillac margarita is the best margarita. Okay, so that's my opinion, but next time you're in a place that makes good margaritas, try one and see for yourself.
So when the waitress came, we ordered two Cadillac margaritas. Then we opened the menu to start browsing selections. That's when I discovered that we were going to pay $8.25 for each drink.
Now I'm accustomed to spending that kind of money for alcohol at resorts and fancy Scottsdale restaurants. In fact, it's even common for us to blow $10 to $16 a piece on top shelf martinis. But I've never spent that kind of money in Wickenburg for any drink — even at the town's nicest restaurant at its best guest ranch. And the price didn't include Wickenburg's exorbitant sales/BB&B tax, which is somewhere around 14% these days — second highest in the state (and proud of it)! The high tax is why quite a few people in WIckenburg are dining out in town a lot less often these days.
But this was a night out after a long week sitting in front of a computer, working on a book. It would be worth the money for a good margarita, no matter where I bought it. At least that's what I thought.
Reality Strikes — Again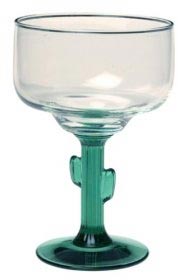 Then she brought the margaritas. They were in small cocktail glasses, the kind you'd get a scotch on the rocks in. (Most restaurants in Arizona have special margarita glasses. Some of them even have saguaro-shaped stems.) The color was right for the drink, but not for the salt. It was green.
Let me back up a bit. Margaritas are normally served two ways: frozen (as in blended with ice) and on the rocks. Either way, you can have salt around the rim of the glass. They usually use Kosher salt or something similar to it. You can even buy special salt around here in a glass dipping container (shaped like a sombrero — how cute!) to make it easy to salt the rim of your margarita glasses at home. The point is, it's salt. Plain salt. It isn't flavored and it certainly isn't colored.
The salt on our $8.25 margaritas was green.
It was the kind of green you might use on St. Patrick's day: a bright Kelly green. Not lime colored like you might think reasonable for a margarita.
But I try to have an open mind. (I swear I do.) So I brought the glass up to my lips and sipped my margarita.
At first the taste of something moldy and salty hit my tongue. Then the taste of cheap margarita mix. The tequila may have been in there somewhere, but it couldn't overpower the moldy salt. And the Grand Mariner was hiding under the ice cubes or somewhere where my tongue couldn't get it.
I immediately began wiping the salt off my glass. My napkin and fingertips turned bright green. Some of the salt fell into the glass, leaving green streaks as it sank to the bottom. I stopped wiping.
Later, I tried to use the cocktail straw to sip some margarita that hadn't been tainted by the salt. All I got was a mouth full of warm margarita mix. I guess the bartender didn't have a shaker. Or maybe he/she was too busy dying salt to mix the drink properly in the first place.
I think — but I'm not sure — that the salt was leftover from St. Patrick's Day five months before. I also think that the moisture of five months of dipped wet bar glasses got a little mold growing in the container. (Can mold grow on salt?) And I think this mold — or its essence — has become an integral part of the margarita making process at this particular restaurant.
I have to stop writing about this because I'm grossing myself out.
The Rest of the Meal
Mike's ceviche was spoiled. We sent that back. It should have tipped us off that it wasn't a particularly popular item when we saw it spelled "saveche" on the menu.
My mole was good. But then again, it tasted just like the mole I can make with a jar of the concentrate from the supermarket. (Because of our Mexican population, the local supermarkets have an excellent selection of Mexican foods.) That means that either the jarred mole is very much like this restaurant's recipe or they use the same stuff. It didn't matter much to me. It tasted good.
Mike's quesadilla looked okay to me, but disappointed him. I think he was expecting a lot of stuff on top, like one of the other local restaurants — the one he wanted to go to last night, I should mention — makes it.
The chips were good, but Mike said the salsa tasted bad. It tasted okay to me and it was nice and chunky, the way I like it. But he got me worried that I was missing something bad, so I didn't eat much of it.
The Search for the Best Margarita in Wickenburg Begins Again
Anyway, at this point it's safe to say that if this is now the best margarita in Wickenburg, we're in a sad state. It's time to start looking for a new best. I hope I find it — at any price.
And I think Mike will remind me of this meal the next time I suggest dining in that particular restaurant again.