In Monument Valley.
Monument Valley is one of the overnight destinations of the Southwest Circle Helicopter Adventure and Land of the Navajo Helicopter Excursion that Flying M Air offers about a dozen times a year. Because of that, I get up to Monument Valley quite often.
Monument Valley, on the Arizona-Utah border, is relatively remote, hundreds of miles from any major cities. Although the roads to get to it are good, its distance from "civilization" keeps the crowds away. The vast majority of visitors are foreign tourists on bus trips. Monument Valley is pretty unique and has become somewhat iconic as a symbol of the American Southwest.
Monument Valley is on the Navajo Reservation, which is the largest of all Native American Reservations in the country. Access to the rock formations we know as monuments is controlled through the entrance of the Navajo Tribal Park. There are reasonable fees for entering and driving your own vehicle into the park. But for an additional fee, you can go with a Navajo Guide who will take you places you're not allowed to go on your own. If you have the time, I recommend this, as it's likely to be your only opportunity to step inside a traditional Navajo hogan.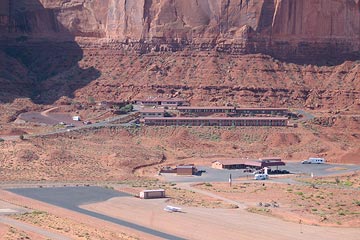 I normally fly to the park from Page along the southeastern side of Lake Powell. There's a landing strip at Goulding's Lodge and after a quick, high-level cruise around the most famous monuments, I land at the strip (shown here) and shut down for the night. All the rooms have a clear view of Monument Valley's westernmost formations, as well as the landing strip. I have to book the rooms at Goulding's almost a year in advance to guarantee that I get them for the dates I need them.
Once at Goulding's, my passengers take a 3-1/2 tour with a Navajo Guide. It's done on a big tour truck with other people, but it's personally narrated (not with a recording) and up to my relatively high standards of what a tour should be like. I give my passengers a choice of an afternoon tour (on the day of arrival) or a morning tour (on the day of departure). I think the morning tours are better for photography, but since you're in the park so long, there are plenty of good photo opportunities, no matter what time of day you're there.
Of course, to learn whether the tour would be good, I had to take one. I've actually taken the tour three times. I took this photo on the most recent trip. It shows two of the most famous monuments: the Mittens. They got the name because they look like those woolly things you might have worn in the winter as a kid. They're formally called East Mitten Butte and West Mitten Butte. They stand hundreds of feet off the desert floor, towers of red sandstone that are still eroding in the high winds and summer storms of northern Arizona.
The Navajo Nation zealously protects its natural wonders from commercial exploitation. It's for that reason that photographers who want to use their photos commercially need to get a permit from the Navajo Nation Film Commission. I've done this once — to get the photos I needed to show on Flying M Air's Web site. It isn't cheap, but it isn't difficult. In general, the film people are pretty reasonable and will do what they can to stay within your budget.
This October, I'm flying a group of about a dozen photographers around Monument Valley as part of a photo excursion offered by one of my clients. He's gotten all the permits he needs to make it legal for me to fly at low altitude around the monuments. This is a huge deal and something I'm really looking forward to.