Another online community.

I recently discovered RedBubble, an online community for creative people. RedBubble offers members and visitors three things:
A community of photographers, artists, and writers. This is a place where you can meet other creative people, view and comment on their work, and get feedback on your own work. For me, seeing the work done by other members has re-energized me, giving me a real desire to get back into photography, which has been one of my hobbies since my college days.
A place to sell your artwork. One of RedBubble's draws is that once you have uploaded artwork to their server, you can make that artwork available for sale in a number of formats, including cards, laminated prints, canvas prints, and framed prints. You can take that idea a step farther (as I did) and use it as a place to get quality prints of your own photos for your own use.
A place to buy quality artwork by amateur and professional photographers and artists. Just about all the images online are available for sale as cards and prints. On my first visit, I found about a dozen photos I liked enough to order as cards. But not all artwork online is photos. There are also drawings/paintings and t-shirt designs. So if you're looking for interesting artwork, I recommend giving RedBubble a try.
The community is small and its members are mature and relatively friendly. (Or the ones that aren't are keeping to themselves.) That alone is a good reason to get onboard.
Selling Your Own Artwork
Here's how artwork sales works:
You start by uploading your artwork and providing information about it, including a name, description, and keywords. You want to upload the highest resolution images you have; the higher the resolution, the more formats it can be made available in. For example, if you upload a 5 megapixel photo, it'll only be available as a card or as a small (approximately 8 x 12) print. There just isn't enough data for the larger sized formats.
As part of the upload process, you specify a markup percentage. All products have a minimum price, which is how RedBubble covers its costs and makes money. The base prices are reasonable (in my opinion, anyway) with cards starting at $2.50 each and small laminated prints starting at $15 each. The markup percentage is the profit you can make on the sale of one of your images. For example, the default 20% markup will earn you 50¢ on a card and $3 on a small print. If you want to make more money, just up the percentage. But keep in mind that if you make your products too costly, you could price yourself out of the market.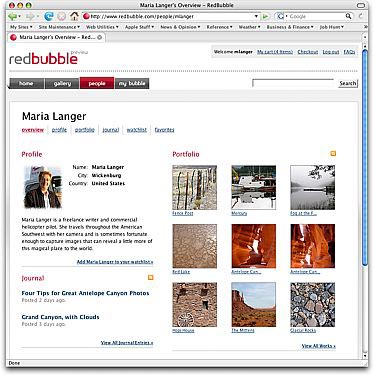 Once you've saved all this information, the artwork appears in your portfolio. If you're lucky, it might also appear in the Gallery of featured work, which is how many people find work to comment on or buy. Members and site visitors can look at your work and buy it. Members can also comment on it. In general, members are very polite and complementary. I think that if they see something they don't like, they just don't comment. (Isn't that refreshing in an online community!)
RedBubble's shipping rates are incredibly reasonable. For example, I ordered 10 cards last week and the total shipping was only $2.73. Shipping is also reasonable on framed prints, which are notoriously expensive to ship. So the cost of buying artwork can be very reasonable.
As for quality, most users seem happy with what they've been ordering. I'm waiting for my cards to arrive. If the quality is good, I'll take the next step and order a print or two. Since I'm extremely quality conscious, I won't hesitate to let you know if I think RedBubble doesn't make the grade.
For Writers
As for the writing side of RedBubble, it's not as obvious, but it's there. You can find writing exercises and challenges in the public forums. Each member also has a journal — like a personal, RedBubble blog — to share thoughts and ideas. Some folks are using both features to share poetry and very short stories. I wrote my first haiku in years based on a challenge in the forums. (That's about the limit of my poetry capabilities these days.)
Give it a Try!
If you'd like to check out my RedBubble portfolio, you can find it at http://www.redbubble.com/people/mlanger. You'll see some of the photos I've shown off here on my site, as well as a few that haven't found their way online yet. I'd be tickled pink (yes, I did say that) if I got some comments or sold a card or two.
Are you an artist, photographer, or writer? If so, I highly recommend checking out RedBubble. I don't think it'll disappoint you.