This time of year, the best only time to be outdoors.
Monsoon season is upon us here in Arizona. That means the heat doesn't really let up — unless the sky is clear at night and the humidity drops a bit. Last night was a clear night and this morning, it's comfortably cool on my back patio, with a temperature in the 70s. I decided to enjoy it while it lasted.
I made my coffee and brought it outside with my laptop to sit at our new table on the patio. As usual, the family of three mule deer — two does and a yearling — wandered down the wash to drink at my neighbor's cottonwood tree. My neighbor had planted the tree years ago and it grew quickly on constant irrigation. They decided to wean the tree off irrigation and it responded by losing leaves on three main branches. So my neighbor turned the water back on and now a puddle of it gathers at the foot of the tree. That's where the deer come, in early morning and late evening, to drink. One of these mornings, I'll get a picture of them as they cautiously make their way across the wide-open wash to the tree.
From my back patio, I can see plenty of other wildlife. Birds of course — thrushes, Gila woodpeckers, cactus wrens, and others I can't name come to feed on seed I throw in the yard. Turkey vultures (or "buzzards," as we call them) and red-tailed hawks patrol the neighborhood for prey, both dead and alive. We also get regular visits by at least a dozen hummingbirds — provided I keep the four feeders filled. (They're almost empty now, yet a hummer is visiting one of them as I type this.) I also see rabbits — cottontails and Jack rabbits — and the occasional coyote. Far less often, I see javelina, roadrunners, gila monsters (which I captured on video here), and snakes.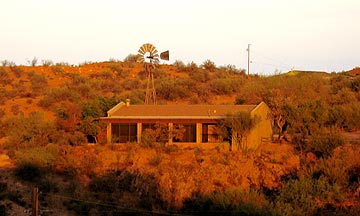 The sun is rising now, casting a golden glow over my other neighbor's house. It was built at least 20 years ago — a long time in Wickenburg — on a lichen-covered cliff. It's a small, two-story house with a screened-in patio that looks out toward us. (I hope our house looks at least half as nice from theirs as theirs does from ours!) It has a ranch-style windmill, with the word FIASA on its tail, that draws water from a well. We use the windmill's vanes and another neighbor's big orange windsock to judge wind speed with a glance out the back door.
The lichen house is empty now. The previous owners sold it to some folks with enough money to live elsewhere during the summer. But even though they don't live in the house, they've already made their mark on it, tearing out the tangle of desert vegetation along the wash for what many people think may be an arena someday. Now, it looks like the former home of a lot of displaced wildlife: a big, sandy clearing that spawns dust devils on hot, still days. Everyone in the neighborhood is waiting to see what becomes of the new clearing the next time the wash flows big.
All this — quiet mornings observing wildlife from my back patio — will soon come to pass. Arizona is growing quickly, feeding the bank accounts of greedy developers and destroying acre after acre of pristine desert land. Wickenburg is no exception. As developers get their hands on cheap land, they seem to have no trouble getting approval for their ever-denser housing projects. The area I live in was once zoned one house per 5 acres; when Wickenburg annexed it, zoning changed to one house per acre. But that doesn't matter. If a developer tries hard enough — which apparently isn't very hard at all — he can get higher density to milk as much money as he can off the land.
This seems to be what people want — to live roof-to-roof with their neighbors. I guess they like to hear their neighbor's kids at drum practice or listen in on family arguments next door. Or maybe they don't mind having an audience while they swim in their pool or try to have a romantic evening in the hot tub. Or get embroiled in petty neighborhood arguments about the color of someone's house or another neighbor's failure to keep his yard clear of weeds.
I can't live like that. That's why I moved to Wickenburg ten years ago. But just as people change, so do towns. Wickenburg is not what it was ten years ago. With twice as many people and fewer successful businesses, it has finally become the retirement town the Chamber of Commerce wanted. Trouble is, I'm not retired.
All of my friends around my age have already abandoned Wickenburg. I can't blame them. There are few decent jobs here and limited services. While the seniors don't mind driving 30-40 miles southeast to shop at Wal-Mart, I'd rather buy goods locally from smaller, more friendly shops. Unfortunately, most of those shops can't survive in Wickenburg because the population majority — all those retirees — prefer Wal-Mart. So businesses fail at an alarming rate. And the people who don't have time to make the 30-40 mile drive once or twice a week — you know, people who have to work for a living? — simply don't move into town.
So as I sit here on my back patio, enjoying a cool breeze too slight to set the windmill in motion, I think about my future and my decision to move on — at least for half the year. This is my last summer in Wickenburg — that's something I've already decided. Whether I get an out-of-town summer job every year or actually find a summer residence in another state remains uncertain.
Because summer mornings like these are rare. There just aren't enough of them for me here in Wickenburg to keep me waiting for the next one.