In the movies.
Last night I had the pleasure of watching the latest Harry Potter movie on a full-sized screen at Wickenburg's historic Saguaro Theater.
Our Saguaro Theater
First, a few words about the theater. It was originally built in the 1920s (I believe) and, like all theaters from that era, only has one big screen. The theater was never cut into pieces by greedy theater owners, anxious to max out their profits on available real estate. (Unlike the old Closter and Tenafly theaters I went to in New Jersey as a child.) The seats, which are replaced every 10 or so years, are always replaced with another theater's cast-offs, so they're never quite new. But they're comfortable and the current seats not only recline but have cup holders. The place is clean, too.
The theater owner, Brian, owns two theaters in Arizona. The other one is in Payson, where I believe he lives. He's a great guy. Although he could stick us with older movies that have been around for weeks or months, he manages to get us a good bunch of first run movies every year. When we get a first run — like Harry Potter this week — we keep it for two weeks.
The theater is open every night for one showing and has three showings on Saturdays and Sundays. There's a refreshment stand with the usual popcorn and candy. Everyone who works there is extremely friendly and pleasant. I get a discount because I run advertising slides in the theater and they actually recognize me when I come in and give me my discount without asking. Regular ticket prices are $8 per adult and $5 per child or senior. (I pay the child/senior price.)
The Saguaro theater is the only theater in Wickenburg. In fact, it's the only theater within about 40 miles. So if you want to watch a movie and you don't want to spend a lot of time driving, this is is.
Harry Potter
Now I know a lot of people don't like the Harry Potter phenomena, but I'm not one of them. Sure, I think there's entirely too much hype about it — but isn't there too much hype about everything these days? (Think iPhone and Paris Hilton.) The truth — at least the way I see it — is that the books are pretty well written and tell great stories that appeal to young people and adults looking for a fantasy escape. While the hype has pushed book sales far beyond what's normal for books of this genre, I think most readers come away satisfied, if not pleased, about their reading experience.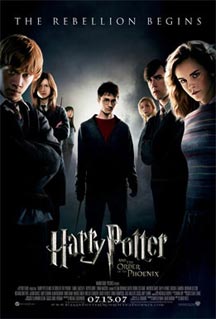 Watch the Trailers
The movies are well done. They're true to the books, while cutting out a lot of the extra stuff that J.K. Rowling seems to have added to the later titles in the series. It's a real pleasure to see the scenes from the books come to life on the screen. Casting is very good, special effects are incredible. What else could a reader want in a movie based on a book?
What I'm also enjoying as I watch each movie seeing the young cast members grow up. They were kids at the beginning of all this; now they're becoming young men and women. The current movie features many flashbacks of Harry's life and the footage is there to show him at every age. The characters are supposed to be 15 in this story and although they're older in real life, they can pass as 15-year-olds. (The character that plays Malfoy does look considerably older than the others, though.) I'm hoping the production folks can keep up the pace and deliver the last two movies with the same actors.
As you might imagine, I highly recommend the movie to anyone who has been reading the Harry Potter books. It's meant to be seen on a big screen (or as big a screen as is available to you) rather than on a television screen. We'll probably see it again before it leaves town, perhaps from a seat near the back of the theater for a different view.
Did you see the movie? What did you think? Use the Comments link or form for this post to share your thoughts with the rest of us.
And in case you're wondering, I do have the last Harry Potter book on order at Amazon.com. I didn't spring for the overnight shipping — I'm not a complete fangirl! — but I do look forward to reading it when it arives sometime next week.