Good on salmon.
Everyone knows what it's like to be at the right place at the right time. It's when special things happen.
We were at the right place — Mike's mom's apartment — at the right time — when a neighbor came by with vacuum-sealed packages of freshly frozen salmon. The neighbor and her husband had just returned from a trip to Alaska, where her husband had gone salmon fishing. He'd had 50 pounds of salmon shipped home. Evidently, their freezer wasn't big enough to accommodate it all.
The salmon looked beautiful and was frozen solid. She was gracious enough to give us three packages of it — enough to feed six people. We stopped off at the local supermarket for a cooler bag and stored the fish and some ice in it for the trip back to Arizona.
One piece remained pretty much frozen solid. The other two were defrosted, but very cold. We had one for dinner last night and will probably eat the other tomorrow.
During dinner last night, Mike said it might have been the best salmon he'd ever had in his life. I certainly can't remember having any salmon that was better.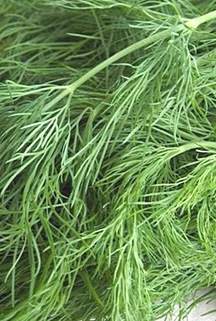 To go with it, I wanted to make some dill sauce. Dill goes really well with fish, especially salmon. A nice sauce would be a change in the way we usually eat salmon — just grilled with salt, pepper, and lemon. I asked Mike to pick up a packet of Knorr dill sauce mix at the local supermarket. As might be expected, they didn't have any. They didn't have any fresh dill, either. So Mike came home with a squeeze tube of "dill blend." I read the ingredients. Dill was one of them. I couldn't pronounce many of the others. But, in an effort to make the best of a not-perfect situation, I set about finding a dill sauce recipe that I could make with what I had in the house, which did not include cream, sour cream, yogurt, or anything resembling cream.
I tracked down a recipe that used mayonnaise. We had some of that. Although the recipe didn't sound very enticing, we had plenty of dill blend to spare and I figured it was worth a shot.
Here's the recipe as I modified it:
3/4 cup mayonnaise. The original recipe called for 1-1/2 cups, which was way too much for my taste. (Keep in mind that when I was a kid, I wouldn't touch mayo. I was an adult before I started using it (sparingly) on sandwiches.)
3 tablespoons lemon juice. That seemed about right, even with less mayonnaise.
2 tablespoons dill weed. The original recipe called for 1/2 teaspoon, which wasn't nearly enough. I assumed the recipe called for dried dill weed rather than fresh (my preferred type) or "blend." I just squeezed in a bunch of the green stuff Mike had brought home and added more, after stirring, to get the right color. I wanted to be able to see and taste the dill.
Combine all ingredients, mix well, and refrigerate for an hour. I think the hour is very important if you're using dry dill weed, as it will provide enough time for the oils in the mayo to hydrate the dill and release its flavors. If you're using fresh, chop it up before adding it. And, of course, if you're using tubed "dill blend," the flavors have already been released in the factory, where some of them may have remained, along with that fresh dill aroma.
The resulting mix reminded me a bit of tartar sauce (which is another thing I only recently started eating). But it tasted very good with the salmon. I'll make it again with the real deal dill sometime in the future.
Or maybe I'll just make a proper dill sauce with the right ingredients next time.