How can anyone resist a happy, smiling face?
At a recent aerial photography gig, while waiting for the film crew to get their act together, I took a few people up for rides and use the flight time to inspect the obstacles I might have to face while doing the job. When I landed, and found that I still had to wait, I called the guy who'd hired me over for a ride.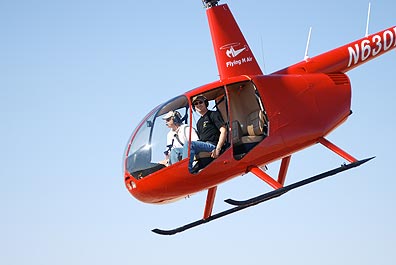 Mike took a series of photos of our departure and return, including this one. Can you see the smile on my passenger's face? Is he a happy guy, or what?
And yes, this is the real departure angle on a typical helicopter flight. Push the cyclic forward to gain forward airspeed and climb out. It doesn't feel this extreme on the inside.
At least not to me.
But then again, maybe that's why this guy's smiling.