What I'm looking forward to this week.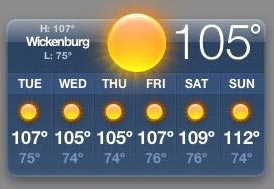 For those of you who read me whining and complaining about the weather, I just want you to see what I have to look forward to this coming week. This is the forecast as provided by Mac OS X's Weather Dashboard widget.
Sure, it's sunny every day this week. But what the widget fails to report is the UV index of 10 every single day. Do you know what that's like to be in? Let's just say that I only lasted 30 minutes with the top down in my car the other day — and I was in Prescott, which is 20°F cooler.
And yeah, it's a dry heat. The current humidity in my backyard is 4%. But triple digits is triple freaking digits. What the hell was I thinking when I moved here?