Sad but true.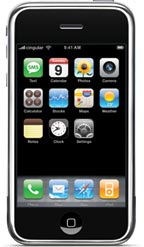 Apple's iPhone continues to be a huge topic of conversation among bloggers and computer news Web site. It's the topic of countless podcasts — including several I've been listening to since my return from vacation a few days ago. And I've even caught a few iPhone ads on television, despite the fact that I only watch TV via DVR and fast forward through all the commercials.
I agree: the iPhone looks hot. Its refreshing design is destined to be a classic — if it isn't one already. (If there's one company that knows design, it's Apple.) And it appears to have most — if not all — of the features I need in a smartphone.
And it hits the market the day before my birthday. What a great gift idea!
But I won't be buying one this year. Here's why:
The iPhone requires a contract with AT&T. After numerous problems with AT&T in the past and a complete distaste for their practice of outsourcing customer and technical support to India, I refuse to give AT&T any of my business. The thought of entering into a 2-year contract for them just so I can get a hot new phone turns my stomach and opens me up for accusations of hypocrisy. And, frankly, I'm a bit pissed off that Apple locked itself in with AT&T for more than just 6 or 12 months, since lots of people will probably switch to AT&T to get the phone. That could negatively impact the other cellular service companies out there, including my chosen provider, Verizon.
The iPhone is brand new, unproven technology. Sure, I bought the original iPod and numerous other first generation products released by Apple and others. But those were "toys" — not equipment that I needed to rely on. And if there's one thing I've learned as a computer geek it's this: Version 1.0 is never as good as version 1.1 or 2.0.
Like all computers and phones, the iPhone's price will likely come down as demand settles to more reasonable levels and cheaper copycat products start appearing. Although my recently purchased Treo cost $350 (after rebate), that's the absolute highest price I ever expect to pay for a phone.
Does this mean I don't like the iPhone? Hell, no! From what I've seen, it looks like Apple has once again managed to create a cool, innovative product that'll be fun to own and use.
Does this mean I don't want an iPhone? Hell, no! I want one very much. But I don't want to give my money to AT&T and my principles are more important than having a cool new toy.
When I bought my Treo 700p last month, I signed up for another two years with Verizon. So I've resigned myself to the fact that I probably won't get my hot little hands on my own iPhone anytime soon.
Perhaps for my birthday in 2009…