You don't need to be a professional photographer to get great shots of this incredible place.
This past week, I made my fourth visit to Antelope Canyon near Page, AZ.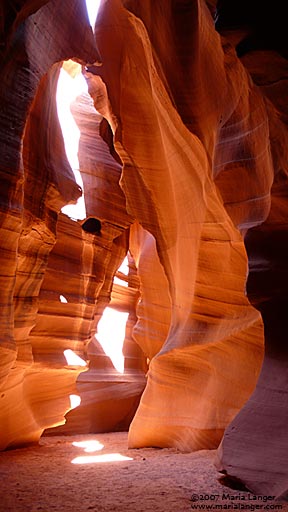 Antelope Canyon is an incredible slot canyon cut through Navajo sandstone. At certain times of the day at certain times of the year, the sunlight enters the top of the canyon, illuminating it with a golden light. The canyon has been featured in many magazines, sometimes with shafts of light capturing particles of dust set in motion by the cool breeze. Everyone who sees these photos dreams of taking photos just like them.
The sad reality of Antelope Canyon is that it's a major tourist attraction that has hundreds of visitors a day. The prime midday time slots are especially crowded, with dozens of photographers vying for position to capture the perfect image. Add to that the normal tourist crowd with their flash cameras and you have a less-than-perfect photo opportunity.
That said, I'm proud to say that the photo you see here was taken at about noon last Tuesday. I had never before seen so many people in the canyon. The "serious" photographers were especially obnoxious, blocking the narrow canyon with their tripods, making it next to impossible for anyone to move forward. Yet there was only one person within sight when I took this photo, and I did it with a point-and-shoot digital camera.
Here are my secrets.
Don't be in a hurry. The tour groups visiting Antelope Canyon come in truckloads of 6 to 18 people each. In most cases, group members are in a hurry to get through the canyon. The truth is, the first two or three chambers are the most beautiful and usually have the best light. By hanging back in the group, you can have these chambers all to yourself — before the next group comes through. (That's how I found myself alone with just one other photographer for a full five minutes with this beautiful scene in front of me.)
Turn off your flash. Flash illumination will wash out the colors and cast deep shadows where shadows simply don't belong. If your camera has an "automatic" or "program" mode, it should be "smart" enough to get the exposure right. This photo was taken with natural light. And no, I didn't use Photoshop to enhance it.
Use a tripod. This is must. Don't trust image stabilization features. I mount my camera vertically on the tripod and extend its legs while I'm still on the truck, so I'm ready to go right away. Then all I do is spread the tripod's legs, embed its feet in the sandy floor of the canyon, and fine-tune to frame my subject. And, in case you're wondering, my tripod for this duty is a $10 model that was thrown in as a giveaway with my video camera — in other words, a piece of junk.
Use a cable release…or your camera's self-timer. Pushing the button on your camera will shake it — possibly enough to blur the image. That's why you should use a cable release to snap the photo. Your camera doesn't support that? No problem. Set the camera's self timer to one or two seconds and press the button. Your button-pressing finger will be safely out of the way when the photo snaps.
Been to Antelope Canyon? I'd love to see your photos. Use the Comments to link to your best shots and share them with the rest of us.
And if you'd like to read more about my visits to this wonderful place, read "Antelope Canyon," a post I wrote here last year.
The full-frame version of this photo is available for sale as cards and prints at RedBubble.com.