See your real bandwidth.
When you set up your Internet connection with an ISP, you don't need to believe what they tell you about bandwidth speeds. You can check it for yourself.
Although there are many bandwidth testers on the Web — your ISP probably provides one — I use one called Speakeasy Speed Test:
Take the Speakeasy Speed Test and test your connection speed! By measuring the download and upload rate from the following locations you are able to accurately judge your current line throughput or internet connection speed. To take the speed test, choose the server nearest you.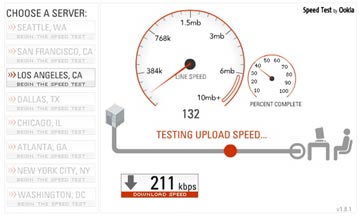 The Speed Test displays your results graphically using a speedometer-like meter. Here's an example of what my terrible home Internet connection looks like with the upload test in progress. (Now you can see why I don't want to move my office back home. I can just about pin the speed needle with my DSL connection at the office.) At the end of the test, Speakeasy plays a little advertisement and offers access to a search feature where you can see if their service is available in your area. (It's not in my area, but then again, there's only one non-dialup option available for my home and you've seen the results.)
While I'm not recommending Speakeasy — I know nothing about it — I do recommend this test. If you know of any others, don't be shy. Use the Comments link to share them with the rest of us.