At the Grand Canyon.
About 100 years ago, when the Grand Canyon was starting to get developed as a tourist attraction, the Fred Harvey Company owned the big hotel, El Tovar. Mr. Harvey commissioned architect Mary Colter to design and oversee the construction of Hopi House, which was completed in 1905.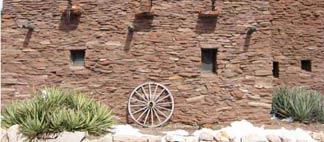 Ms. Colter, a talented woman in a male-dominated field, designed the building to resemble the Native American homes built by the Hopi people on the Hopi Mesas. Having seen those homes firsthand, I can verify the resemblance. The building appears, from the outside, as a series of stone boxes, joined in an almost random pattern. As if a smaller home was repeatedly enlarged with additional rooms. This photo shows the front wall of one of those boxes with another wall (on the right) that's set back.
I'm a big fan of masonry structures — I really like the way stone buildings look. This building was made with local stone and looks like it belongs in its location in Grand Canyon Village, across the drive from El Tovar.
In the old days, Hopi people actually stayed in the upper floors and on the roof of the building. There are photos in the Grand Canyon archives of Albert Einstein standing in a group of these people, wearing an Indian headdress. (To my knowledge, none of the Arizona tribes ever wore a headdress like the one on Einstein's head in the photo — the same one depicted in so many Hollywood westerns.)
Today, Hopi House is a gift shop with merchandise ranging from tasteful tourist souvenirs to high quality, Native American-made pieces. The upstairs room, when open, is museum-like; that's where you'll find the best (and most expensive) merchandise the current concessionaire, Xantera, has to offer.
The full-frame version of this photo is available for sale as cards and prints at RedBubble.com