I bring my Jeep back from Howard Mesa.
On Saturday, Mike and I drove up to Howard Mesa to take care of "winterizing" our shed and property. That included things like spraying down the little building with Thompson's Water Seal, covering the valves on our two water tanks with foam insulator cups, and securing loose items.
We were going to fly up, but for some reason, Mike wanted to drive. So we made several stops along the way in Prescott: the excellent True Value hardware store near the hospital, the Secondhand Man Furniture Shop, and an antique store near Courthouse Square. We almost bought a table and a drop-front desk (or secretary, as they're sometimes called) but decided that the table was too big and the desk was too rickety. Then we got back on the road and, after stopping at Safeway in Chino Valley for fuel and KFC in Chino Valley for lunch on the go, we finally made it to Howard Mesa by about noon.
We did our chores. It took about two hours. I used Trade-a-Plane sheets to cover the windows of the shed and it's a good thing I did — Mike has very little precision with the sprayer. He sprayed and I brushed the wet spots — mostly the building's trim and "shutters." Then we did our wooden bench and picnic table. Then we did the building again. We went through two gallons of Thompson's. It was certainly worth the effort. The building will be protected for up to two years (although we'll probably do this annually anyway) and, hopefully, it won't turn black like the picnic table is.
Afterwards, we called our friends Elizabeth and Matt, who live full-time on the other side of the mesa. They were home so we decided to visit for a while on our way back home.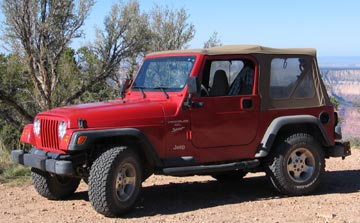 My Jeep was at Howard Mesa — it had been there for about two months — and I wanted to bring it home. I'd been driving my little Honda S2000 for the whole time it was gone and the poor car was tired of eroded dirt roads and dust. And I was tired of washing it. Besides, as fun as the Honda is to drive, it's not terribly practical for life in Wickenburg. I'd bought it for road trips and driving down to Phoenix — not for picking up feed for the horses and grocery shopping. And that's what I'd been doing. (Do you know you can fit three 50-lb bags of horse and chicken feed in the trunk of a Honda S2000?)
So I loaded the garbage into the Jeep and let Mike take Jack the Dog in his truck. (He also took a very tall ladder that I'll be using at the airport during my preflight to get just a little closer to my rotor hub.) We drove to Elizabeth and Matt's place. We took what we call the Tank Road — a two-track that winds through state land from a big metal water tank to the edge of Elizabeth's and Matt's property. It's a mile shorter that way, but the road is pretty rough. Didn't stop me from bouncing along in the Jeep. I figured that the Jeep had had enough rest and it was time to get back to work.
We had a nice visit, then hit the road again in our two separate vehicles. I led the way. And that's when I started to remember why I'd bought the S2000 in the first place.
On paved roads, the Jeep rides like crap.
First of all, the Jeep's 6-cylinder, 4-liter engine cannot compare to the 4-cylinder, 2 liter engine in my Honda. The Jeep has terrible acceleration and could barely reach the speed limit on Route 64 (65 mph), I-40 (75 mph), or 89 (65 mph). My driver's license would be safe: Speeding wasn't much of an option. The whole thing shakes and rattles, feeling very unstable at any speed over 55. The Honda, on the other hand, feels rock solid and stable at any speed — and I've tried a bunch of them.
And the Jeep's brakes — well they suck. I'm going to get them checked. They really can't be that bad by design. The first time I used them at a stop sign, I nearly coasted right through the intersection.
Noise was a big issue. Although I had my iPod plugged into the stereo system with one of those cassette do-dads, I couldn't get the volume loud enough to hear the podcasts I was trying to listen to. I had to resort to my ear buds, which are designed more like ear plugs than the standard iPod buds. That actually sounded good and cut out all the road noise.
You might say, well if you hate the Jeep so much, why don't you just get rid of it?
First of all, I never said I hated the Jeep. I actually kind of like it. You know, the way you might like a stray dog who knows how to catch Frisbees. It can do a cool thing — drive just about anywhere my Honda can't — and it really isn't either troublesome or costly to gas up and insure. I hardly ever wash it — Jeeps are supposed to be dirty — and it does start right up every time I turn the key. And it is the perfect vehicle for driving around town in Wickenburg. After all, I have to cover nearly a mile of dirt road just to get to the supermarket from my house.
But I really don't like driving it long distances on paved roads.
Especially after driving the Honda nearly every day for the past six or so weeks.
We stopped at the Iron Springs Cafe in Prescott on our way home. I wish Wickenburg had a little restaurant like that. The March Hare comes close — but it's only open for dinner one day a week and you need reservations by noon the previous day, which is not always convenient. Good, interesting food, great taste combinations. But the Iron Springs Cafe is filled with trendy baby-boomers and young people, rather than retirees.
From there, I followed Mike home. I had a hard time keeping up with him on Iron Springs Road. The sun had set while we were in the restaurant and the sky glowed with that post-sunset color — red, orange, violet. The air was clear. I had my window open — mostly because I had a half full, open bottle of fuel injector cleaner wedged in beside my seat (long story) and the smell of it was screwing up my sinuses. (I think if I had the windows closed, I probably would have been asphyxiated.) The air was cool enough to have the heat on in the Jeep. We passed by the Kirkland Steakhouse, which was really hopping and had a bunch of antique cars parked out front, then made our way through Kirkland Junction, Peeples Valley, and Yarnell. We got behind a slow pickup truck going down Yarnell hill and I smelled his brakes burning until I managed to pass him where it opens up to two lanes. (Some people just don't understand how to use a lower gear.) A while later we were home. I had to leave the Jeep in the middle of the driveway because Mike had been encroaching on the Jeep's parking spot with his Honda Accord and there simply wasn't enough room to park.
I washed the Jeep at the airport on Sunday morning. I had to do it twice. It was really dirty — too dirty for even a Jeep. There's still some mud on the asphalt just outside the hangar door.
I took the Jeep to work with me today. I would have taken Jack the Dog, but he made himself scarce when it was time to go so he missed out. It was nice to bounce along the dirt road as I left our house. No worries about erosion or rocks.
The Honda gets a rest now. It deserves it.