Just downstream from the famous falls.
I've been to Havasu Falls twice and Supai three times.
This photo was taken on the first trip. It was a photo tour with Arizona Highways magazine. They took us by van to Havasu Hilltop, the closest place you can get to by car. From there, we took a 6-minute helicopter flight down into the canyon. We set down in a field in Supai. I clearly remember being amazed by the fact that the horses we flew over didn't seem the least bit concerned about a helicopter flying 30 feet over their heads on landing.
Supai, the indian village at the bottom of Havasu Canyon, is an amazing place. Accessible only by foot, horse/muleback, or helicopter, it's one of the most remote settlements in this country. And although the Havasu tribe which lives there used to sustain itself by farming, tourism has become its top source of revenue.
What was sad to me about Supai were the native people themselves. The vast majority were obese. I'm not talking about fat, I'm talking about really fat. Their bodies just can't metabolize the kinds of foods we eat — which is the kind of food they now eat. As a result, they are some of the fattest people I've ever seen.
Which brings to mind the donut man. He was an older indian guy who rode around on horseback, delivering donuts. He had plenty of takers.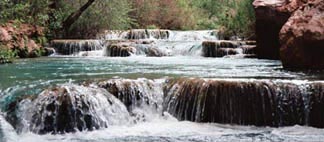 Anyway, Havasu is famous for its waterfalls. The most famous is Havasu Falls, but there's also Navajo Falls (upstream) and Mooney Falls (downstream, named for a guy who died trying to descend them). I don't have pictures of any of the falls in the header of this site because falls are vertical and this header needs horizontal shots. So I have this shot, taken near our campsite on Havasu Creek.
I was with the Arizona Highways group, which was being handled by an outfitter. The outfitter had its own private camp just outside the campground managed by the Havasu indians. I was alone and had my own private tent, which was nice. It was right beside Havasu Creek, which was really nice. What wasn't nice was the lack of showers (which had been mentioned in the brochure) and the outhouses in the campground. They were filthy. I used the one without a door because it was cleanest — most folks weren't interested in taking a dump in a toilet without a door. But I used it early in the morning, before most folks were awake, and I rather liked the fact that it didn't stink to high heaven like the rest of them.
I took a lot of nice photos on the trip but didn't really learn much. Except the fact that some people are really into amateur photography.
A few weeks later, I returned in a Papillon helicopter, riding along on a regularly scheduled flight to Supai. Although I helped the passengers unload, I never left the landing zone. I dreamed about flying that route, but it never happened.
About a month after that, Mike and I rode standby on another Papillon flight. We hiked all the way down to Mooney Falls. It was a great trip and I hope to do it again someday. But not in the summer when it's so darn hot. May would be nice.
Havasu, creek, falls, Havasupai, Supai, Arizona, photo