I start a week in Vancouver, BC.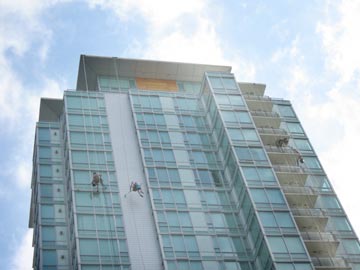 I'm sitting on a plastic chair on the front patio of a ground-floor apartment in Vancouver, British Columbia, Canada, watching four men wash the apartment building across the street. It looks to be a 24-story building and, like most of the buildings in this area, it's got a steel and glass facade. The four men are sitting on separate wooden seats — kind of like the seats you'd find on a swing set — hanging from ropes on top of the building, about four stories down. Two of them have long hoses and the other two have brushes on long poles and plastic pails. They're all wearing shorts and sneakers and are doing a lot of bouncing off the walls as they move back and forth and down.
I don't think I've ever seen anyone wash a building before, but it doesn't surprise me. This is Vancouver, after all. It's one of the cleanest, well-kept cities I've ever seen. Perfectly manicured grassy islands between sidewalks and curbs, trees and flowers, pedestrians and cars. Everything is clean and well-kept. The only graffiti I've seen was painted on the back of a rental truck. And although everyone seems to have dog, I haven't seen a dog turd anywhere.
I'm here recording the audio and video for the first video in a new MacProVideo training video series. Microsoft Word 101 will be a DVD training video for beginning to intermediate Word users. If it sells well, it'll be followed up with more advanced titles and coverage of Excel and PowerPoint. The work is a bit frustrating and rather tedious, more so because after each 3 to 6 minute segment, I have to wait 6 to 12 minutes for the newly recorded video to render. So I do about 1/3 work and 2/3 waiting. Because I'm recording each segment at least twice, it's slow going. But, by week-end, I should be finished.
I'd better be. I leave town mid-afternoon on Friday.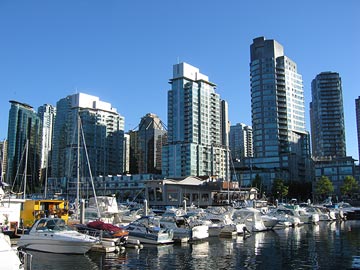 In the meantime, I'm enjoying my non-working hours in a clean, safe, and rather beautiful Canadian city. The weather is beautiful, in the mid 70s and mostly sunny, although a marine layer of clouds seems to be drifting in as I type this. My hotel and the office/apartment I'm working at are right on the water near Stanley Park. The view from my hotel room at the Westin is full of boats and seaplanes and healthy people strolling the waterfront.
One of the strangest things I've noticed: most of the buildings — including my hotel — have huge floor-to-ceiling windows that open. At my hotel every evening, everyone slides open their big sliding glass doors. Although most patios are too narrow to accommodate chairs, people step out onto that narrow space and gaze down at the hotel's pool or the marina or even the city skyline. I've never seen so many open windows. But why not? The weather is glorious and there don't seem to be any bugs. Fresh air beats processed air. And air conditioning, although available in my hotel, is not a common thing in this area.
More another time. Got to get to work.