My own foray into retouching photos.
I've been rather absorbed by the story of the Reuters news photographer who had modified photos and sold them to Reuters for publication.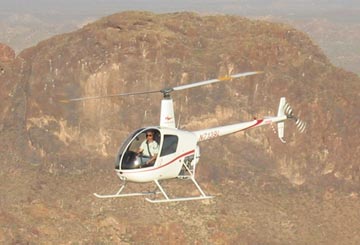 One of the things about it that interests me is that I have been accused of cooking up a photo that I didn't "create" with photoshop. This image of my first helicopter N7139L, is an actual air-to-air photo, taken by my husband, Mike, from a Piper Cub airplane as we flew in formation. (And yes, that's me sitting in the pilot seat, looking right at the lead aircraft and its photographer.) The photo appeared on a lot of my advertising materials, including my business card. Yet when I showed it to my aunt in New Jersey, she refused to believe that it was real. She thought the helicopter had been parked on the ground for the photo and that we'd superimposed it over a background photo taken from the air.

I admit that her refusal to believe that I was telling the truth about the photo rattled me. After all, if your family can't believe you, who can?
Later, however, I admit to cooking up a photo of N630ML before it was built. I didn't do the cooking, actually. My buddy Bert Monroy, Photoshop expert extraordinaire, did it for me.
I gave him this first shot of my friend Tristan flying his helicopter near Vulture Peak. I'd leased Tristan's helicopter for a season to see if a bigger helicopter would help my business. (It did.) Tristan and I flew in formation in the area while Mike took photos. That's Tristan in the pilot seat.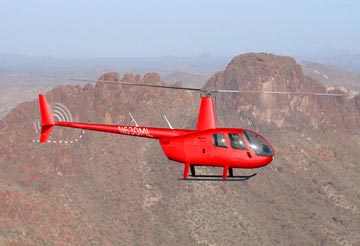 I told Bert that I needed a photo of my helicopter to start putting together marketing materials. I asked him if he could make a plain red helicopter, without stripes, and change the N-number to the one I'd have on my helicopter, N630ML. Bert delivered this photo via e-mail within hours. It was easy for him — a straight color change job. I probably could have done it if I knew how. But I didn't. And yes, that's still Tristan flying. This photo appeared on slides at the local theater and on my Web site.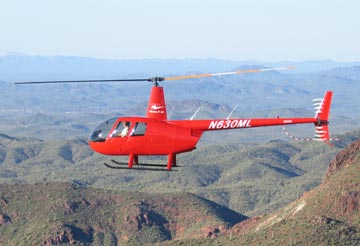 Later, I flew in formation with my friend Jim and Mike took this photo of the real thing. That's me in the pilot seat again.
Of these four photos, the only fake is the third one down, with Tristan's helicopter painted red. Software like Photoshop makes this really easy to do (if you know how).
Be sure to check out my links for today (published at midnight) for more online information regarding the recent retouching of photos in the news.