And Jack the Dog.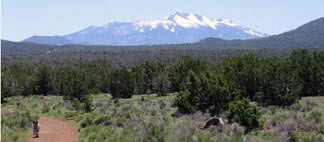 I took this photo on the hiking trail to…well, I can't remember the name of the place now. I think it's called Red Mountain. It's off route 180, between Valle and Flagstaff in northern Arizona.
The photo shows the San Francisco Peaks, which are the tallest peaks in Arizona. Mt. Humphreys is the main peak. There's a ski resort up there that's open in the winter when there's enough snow. They want to use reclaimed water to make snow up there, but the Navajo indians are against it. You see, the San Francisco Peaks are one of the four sacred mountains of the Diné.
If you look closely, you should see Jack the Dog running towards the camera in the photo. Jack's always running somewhere. He gets ahead of us on a hike and we call him back. We figure that he runs 2 to 3 times more on a hike than we walk. Ditto for horseback rides.
As for Red Mountain — if that's what it's really called — its an interesting spot at the end of an easy hike. It's the remains of a volcanic mountain that collapsed years ago. Inside, past the lava, are hoodoos very much like you'd find at Bryce Canyon National Park. They're even red like the ones at Bryce. There are trees in there and plenty of quiet places for a picnic lunch. Best of all, not many people know about it so it's never crowded. I recommend it