I work with designer and layout guy extraordinaire, David Van Ness, to get a really professional tri-fold brochure designed.
I've decided to dive into marketing in a conscious effort to build my helicopter tour and charter business, Flying M Air. March and April were such incredible months, that I have an inkling of what business could be like if I just tried a little harder to attract it.
Of course, another motive is to market and sell the Southwest Circle Helicopter Adventure excursion. I needed a nice printed brochure to be able to send people on request. But rather than have a bunch of different brochures to produce and send out and store, I decided to go with one tri-fold design.
With the assistance of Certified Folder, I found Teldon Print Media, a print house based in Victoria, BC (Canada). At my request, they FedExed me a bunch of samples and I was very impressed with their work. I was also impressed with their prices, which were about 25% of the cost of other print houses I'd used in the past.
The only trouble was designed. Up to this point, I had designed all of my marketing material — and it showed. I'm very good at emulating, but terrible at coming up with new designs. Although the samples Teldon sent me were full of good ideas, I lacked the Photoshop, Illustrator, and InDesign skills I needed to execute an imitation.
So I looked for help. After a few false leads, I hooked up with David Van Ness, a freelance production guy who has worked with me on several of my Peachpit Press books. Although I do layout (in InDesign) for my Peachpit books, I only know enough to get the job done. David's job (with me) is to tweak the layout to give it its professional polish. I assume that he does a complete layout job for other authors who don't do their own packaging.
David admitted that he was like me — he didn't have the skills to come up with an original design. But he did have far superior InDesign and Photoshop skills than I ever will. I sent him a scan of a sample brochure I liked, along with some copy, photographs, and my company logo. A few mornings later — I think he's nocturnal — I had a low-res PDF in my e-mail In box, along with FTP info to download the brochure files.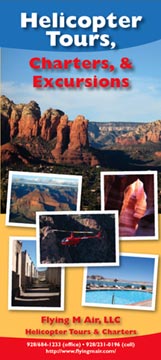 I opened the PDF and could not believe that he'd done such an incredible job in such a short time. It was 95% perfect. And since I had the files, I could take it the other 5% without bothering him.
If you're interested in seeing what the "final" brochure looks like, download the PDF (816K).
I just uploaded the files (all 46.6 MB of them) to the Teldon Print Media Web site. I'll get proofs while I'm away in CA this week and, with luck, can turn them around quickly so the print job gets started on time. I should be the proud owner of 25,000 copies of the brochure by the end of the month.
From Teldon, they go to Certified Folder's storehouses in Page and Flagstaff. Then to brochure racks in Page, Flagstaff, Williams, and Grand Canyon. In September, they move south and start their run in the Phoenix area. And, of course, I'll have about 1,000 copies sent to me in my office so I can distribute them locally and start marketing to Phoenix resorts.
And none of this would be possible without David's help. Thank you, David!