Just after dawn at Fort Stevens State Park.
A lot of the photos in the header for this blog come from the 16-day road trip I took in August 2006. This is one of them.
I spent the night in a yurt at Ft. Stevens State Park on the northwestern tip of Oregon. In the morning, I went to the beach for sunrise. Unfortunately — or so I thought at the time — it was foggy. But when I did a little exploring around the deserted post-dawn park, I found some beautiful images that my little digital camera had no trouble capturing.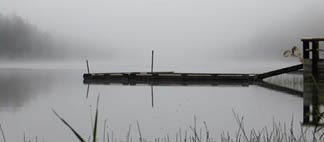 This dock stretches into a body of water not far from the coast. It was a haunting image, made magical by the reflections of the dock and grasses off the perfectly smooth water surface.
There was a fisherman there that morning, too, but we didn't ruin the moment — or wonderful silence — with conversation. I moved around as quietly as I could, snapping photos here and there. He cast out his line, reeled it in, and casted it out again. After a while, I slipped back into my car and disappeared into the fog.
The next time I had Internet access, I sent the photos I took that morning to Mike via e-mail. He told me they were the best photos I'd taken so far on the trip.
The credit goes to the fog.
Oregon, coast, fog, Ft. Stevens State Park